Introduction
In the last decade, companies only outsourced a few basic office functions like data entry and payroll management. However, with the increase of connectivity and the technological advancement of the BPO agencies, businesses tend to outsource various business functions like customer service, back office, call center, to name a few. Business Process Outsourcing has rapidly changed and grown since last year. 2021 has become a crucial year as the pandemic is continuing and hence the trends of BPO this year will be different. In this blog, we are going to discuss the trends that create a significant impact on Business Process Outsourcing.
Trends Impacting Business Process Outsourcing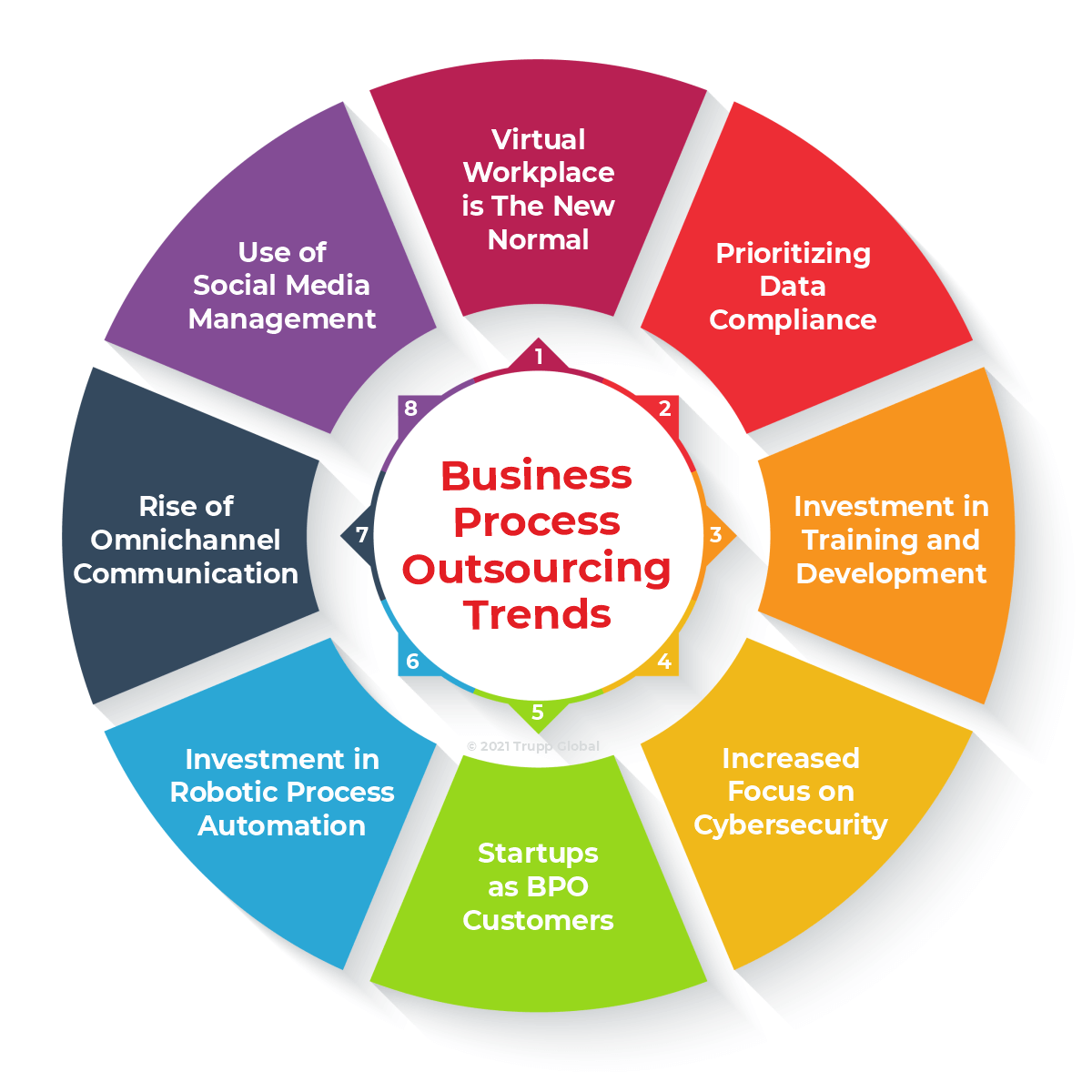 From America to Asia and beyond, the Business Process Outsourcing industry has been hit hard by the COVID-19 pandemic. Yet, the pandemic has acted as an unexpected catalyst for the rapid transformation of the core BPO model, shifting beyond the work from the office to virtual work arrangements. What's next in the BPO industry? Let's dive into the emerging trends of the Business Process Outsourcing sector that will surely curb a significant impact on the industry.
1. Virtual Workplace is the New Normal
According to a BPO survey, less than 10% of their employees were working from home before the pandemic situation. However, this year, 52% of the employees are working from home. Yet, 50% of the BPO companies don't believe that virtual working is the new normal. Well, it has many benefits, cost-effectiveness, and less infrastructure to name a few. The future of the working environment lies in the hybrid working environment. An ongoing home-based work setup should sustain in this current pandemic situation and BPO companies must focus on this as the core business model. Despite all the challenges, Research by Technavio predicted that the BPO market will grow over 7% between 2020 to 2024.
2. Prioritizing Data Compliance
As per the research by Deloitte, sometimes clients may have to make forced decisions on sensitive and critical topics related to data privacy, security, and service obligations without realizing the impact of the decision when the team of the outsourcing company will work from home. Data compliance should be prioritized as people will work from home and there should be security compliance with the device that will be used by the employees so that data breaches can be prevented. Remote monitoring will help ensure the protection of sensitive data no matter where it has been accessed.
3. Investment in Training and Development
With the practice of remote working by most of the BPO companies, the whole process of working has been changed. It needs adequate training and development for the employees so that they can work efficiently from a remote location. The tethered working models should be practiced by all BPO companies so that they can deliver the client's work in time. Well, BPO agencies are facing challenges because they have to coordinate a large team virtually, hence the process needs to be efficient so that the KPI meets efficiently and the employees have job satisfaction.
4. Increased Focus on Cybersecurity
Ironically, the biggest threat of outsourcing is cybersecurity. Nowadays, the rate of cyberattacks has been gradually increasing, resulting in loss of sensitive information and data breach in many companies. Outsourcing companies need to focus more on cybersecurity protocols so that their clients' data remain safe and can be retrieved whenever required. A few security protocols such as GDPR, HIPAA, PCI compliances need to be encrypted in the VPN and SSL. A regular update and review of the security measures are essential for managing client's data safely and securely.
5. Startups as BPO Customers
2021 has shaken the grounds of many small businesses in terms of profitability and business existence in the market. Startups have to decide a lot for cost-cutting in many business processes. Here comes the role of the BPO agencies that help businesses in accomplishing their back-office activities. Outsourcing agencies have a plethora of offerings that small businesses can easily avail their services for the smooth workflow of different business functions. 2020 has been a roller coaster for many small companies in terms of economy, BPO offers SMEs more affordable options for executing operations more efficiently.
6. Investment in Robotic Process Automation
Usage of Artificial Intelligence and Robotic Process Automation has been the core process of BPO companies, as the blended approach is proven to be the best solution for the best output. These companies can create great results with the use of AI and RPA along with human intervention. BPOs must invest in the latest digital trends so that they can be updated and serve their clients in a better way than ever. Automation does not limit cost reduction but also improves the processing time by delivering consistently high-quality service delivery with precision and accuracy.
7. Rise of Omnichannel Communication
With the customers driving their agenda towards their choices and preferences, omnichannel communication will again continue to be the top trend for Business process Communication this year too. Customers these days don't want to wait for a response from the company, hence omnichannel communication is the only way to use all the customer touchpoints within time so that they can be satisfied with the service. Omnichannel strategy not only improves the customer experience but also helps companies to get data for improving their products and services keeping their customers delighted.
Social media management has been an important trend for the Business Process Outsourcing sector as companies are highly dependent on social media for customer interaction and increased online brand reputation. Content moderation services have been popular BPO services that brands nowadays require to keep their social media platform free from spam and offensive customer reviews. Social media-related services nowadays BPOs target for responding to the customers for their clients thus maintaining the community guidelines.
Wrapping Up
2021 has witnessed a lot of growth of outsourcing compared to previous years because the startups are outsourcing their office functions for cost-effectiveness. Despite the pandemic situation, the BPO agencies are making their business continuity plan stronger than ever while encouraging virtual working which comes with innumerable challenges. The above-mentioned Business Process Outsourcing trends are relevant enough to create a significant impact on the profitability and growth of the whole sector. However, if the BPO agencies can sort out the issues due to the pandemic, then it will flourish like never before with more precision and effectiveness.