Introduction
Great back office support can help your business grow to the next level as it drives almost 50% of the total business operations. Along with front office support, back office support is considered the backbone of the business as they are critical to every company. Have you thought of outsourcing your back office services? With the right outsourcing strategy, a business can expand its wings and give tough competition in the market. Once you have got the right outsourcing partner for your back office support needs, you can focus on the core business activities peacefully and leave the non-core business concerns to the outsourcing agency.
Advantages of Back Office Support Outsourcing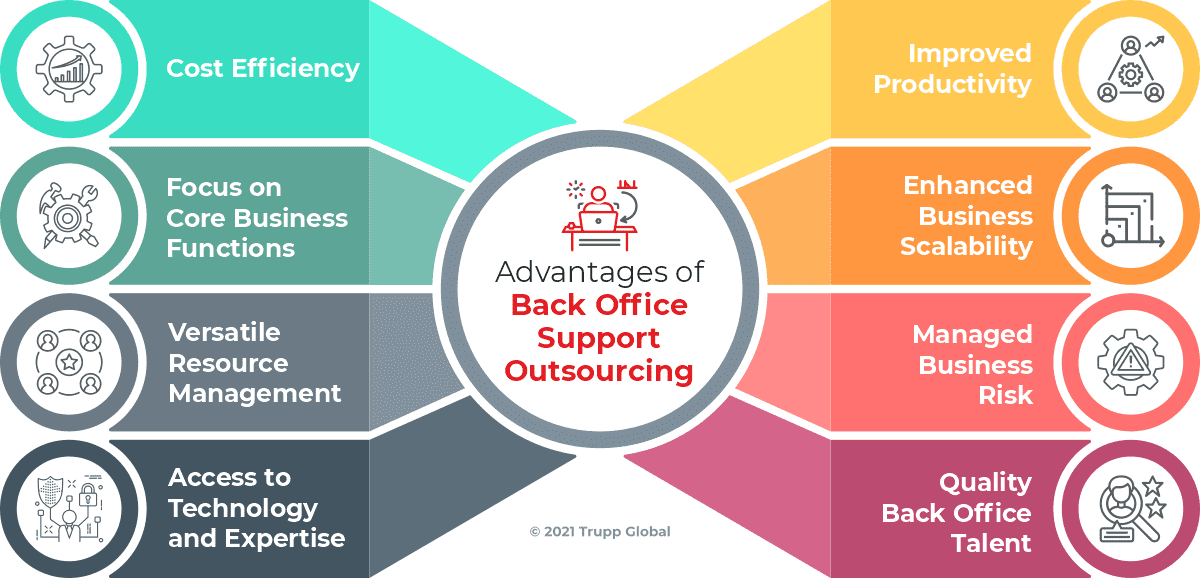 There are multiple advantages of outsourcing back office support if done correctly by choosing the right outsourcing partner. From mid-sized companies to multinational giants, back-office outsourcing has proven to be beneficial as companies scale their business and it becomes overwhelming to manage all the operations.
1. Cost Efficiency
Cost reduction is considered one of the most significant advantages of back-office outsourcing for most companies. When companies tend to grow their business operations, it becomes difficult to manage all the departmental work efficiently. Hiring professionals and providing them training and infrastructure incurs huge costs and time. Outsourcing back-office functions will not only help in cost reduction but also you will get your work done efficiently.
2. Focus on Core Business Functions
As startups have limited resources of money and employees, hence it is crucial to look after the core and non-core business functions equally. One of the best ways of managing all back office support functions smoothly is by outsourcing them to a reputed organization. Thus, you can focus on your core business operations and manage them properly. It is very important to focus on product development, marketing, sales, etc. so that you can gain a competitive advantage in the market in terms of profitability and customer acquisition.
3. Versatile Resource Management
Resource management for any company is very essential as it determines the future of the company. With back-office outsourcing, a company can not only manage its back-office functions but also a sufficient amount of capital is saved that can be allocated easily on other core office activities. To run a business smoothly outsourcing and resource allocation go hand in hand so that the flow of business remains intact while meeting the customer and market demands.
4. Access to Technology and Expertise
It is a fact that renowned BPO service providers are known for upgrading their infrastructure and technology as per industry standards so that they can serve their clients in a better way. If you are outsourcing your back office support functions to a reputed third-party service provider, then you can access the latest technologies used by them in your service delivery. Also, you will get the help of an expert's opinion regarding any of your business concerns that will ultimately help in the growth of your business.
5. Improved Productivity
By outsourcing, a business can 100% improve its productivity as the employees are no longer liable to perform repetitive cumbersome back-office tasks. These tasks are outsourced to a reliable partner that will not only deliver the work on time but also help your business in boosting productivity and growth in the market. Research report claims that businesses that outsource their office functions are known to perform well in the market compared to ones that tend to manage all activities with the in-house teams.
6. Enhanced Business Scalability
Now you can enhance the scalability of your business with the help of the technologies and expertise of your back office outsourcing partner. Startups have limited sources of technology and budget constraints; hence they are not able to scale up their business whenever they want. Many external and internal factors affect the scalability of the business. With the help of outsourcing, now you are not only able to focus on your core business functions but also your back-office functions will be managed efficiently.
7. Managed Business Risk
Outsourcing back office support functions helps a company in managing business risks in terms of resource allocation, hiring employees, training, maintaining daily operations, etc. It takes a lot of time, money, and effort to hire a new employee and provide training, etc. But if these activities are outsourced to a BPO service provider, then they will take care of all these activities and you can focus on your marketing activities, business development, product attributes, and many more.
8. Quality Back Office Talent
Finding the right talent as per your business needs and budget is a hectic task that needs time and capital. However, if you outsource your payroll, Human Resources, accounting, administrative functions, etc., then you don't have to invest effort and time in doing all these activities. Expert teams of the outsourcing partner will take care of all these activities in an efficient manner. And at the end of the day, you will not only improve your productivity but also grow your business in the market.
Wrapping Up
Back office outsourcing has multiple benefits if a company finds the proper way of doing it. Whether you need outsourcing or not depends on the nature and goals of the business. There are multiple ways to determine the need for outsourcing for a company. However, companies that are outsourcing their various office functions are proven to be successful in the market. If your company's day-to-day operations are not managed properly, then it is very difficult to grow the business and create a competitive advantage. Your back office outsourcing will yield excellent results if you are successful in hiring the right BPO service provider at the right budget.