Introduction
With customer service being the core focus for every business, nowadays companies are generating profits while improving customer relationships. Outstanding customer experience can be achieved by delighting the customers by serving beyond selling products and services. Consider the cumulative customer experience while they provide feedback for your products in the store or on the website and utilize them in a better perspective by going beyond customer's expectations.
What Makes Customer Service Exceptional?
Exceptional customer service refers to one that keeps the customers coming back to the brand repeatedly. It helps in customer retention while spreading positive Word of Mouth (WOM) about the brand. To make every customer service exceptional, companies need to be consistent, focused, patient and design each customer experience into customer delight. From the website to the storefront, brands need to examine each touchpoint of customer interactions such as online reviews, comments on social media, and so on.
10 Ways to Deliver Outstanding Customer Service
Delivering excellent customer service consistently needs a lot of work in the back. Below are the top 10 key elements that businesses need to consider while implementing a consistent and seamless customer experience across every communication channel.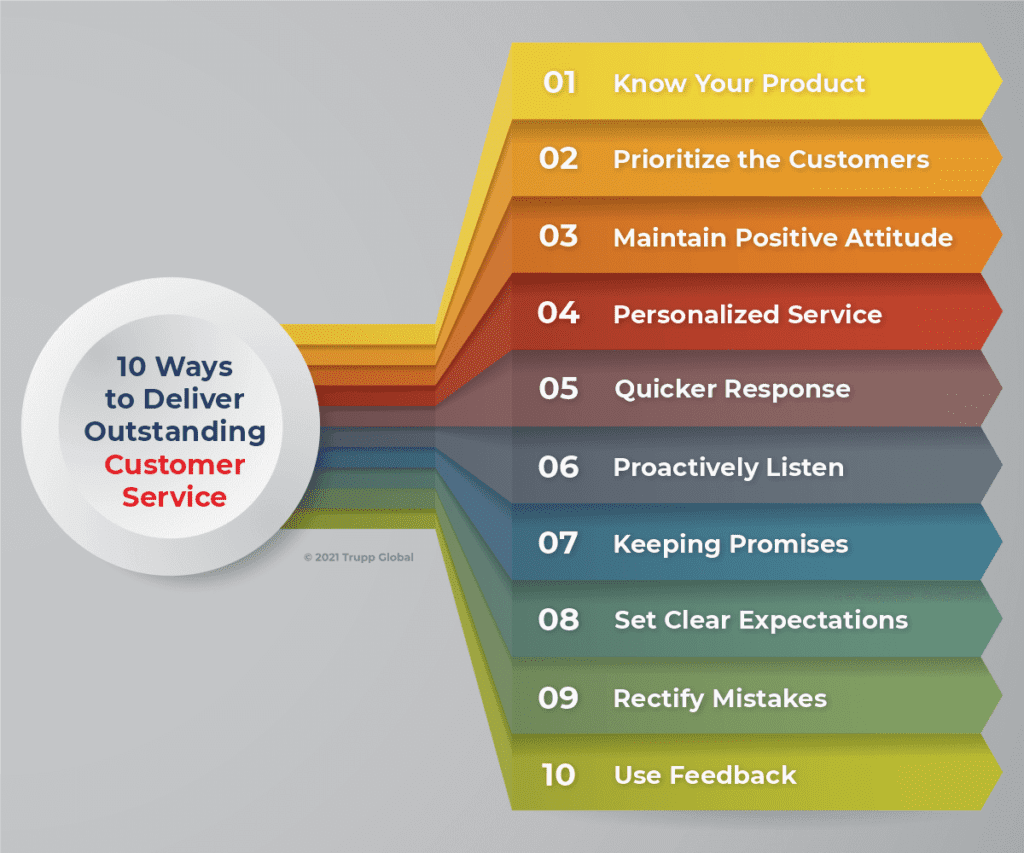 1. Know Your Product
To provide excellent customer service, company representatives must know what they are selling, the inside and out of the products. Always make sure that the customer-facing staff must know the in and out of the product and how it functions. They have to stay aware of what customers are asking and the way of articulating the answers so that the customers will be satisfied. Brand reputation is very important for the company representatives so that they can deliver great customer service.
2. Prioritize the Customers
Customers are the king, so does their service. Customer needs are considered the most important drivers for business growth. Customers can easily understand when a brand values its users. Never leave any client or customer dissatisfied with your behavior and service because it will backfire you with negative Word of Mouth (WOM). By instilling this core belief in a company helps in enabling it to serve customers in a better way than ever.
3. Maintain Positive Attitude
Attitude is everything. Hence, a positive attitude can go a long way in terms of delivering a remarkable customer experience. Sometimes a positive attitude can change negative customer experiences into positive ones. Since the customer interactions are done virtually, hence the positive attitude must be reflected in the tone of voice. Do not forget to use smileys in chats so that customers feel that you are willing to help them.
4. Personalized Service
More than 40% of the customers of a brand want to speak with a human customer service agent. It means that they want to feel more than just a reference number, rather they want personalized attention. Customers sometimes get furious when they are not treated properly by the company representatives. Brands must provide their customers customized attention such as wishing them on birthdays, anniversaries, etc. which can delight customers to a large extent.
5. Quicker Response
The value of time is important for everyone, let's say for both brands and their users. To deliver a striking customer experience, companies must give sufficient time to their customers while maintaining the speed of their service so that no customer is left out. Every customer understands that complex issues take time to resolve. Hence, it is recommended not to provide false promises otherwise it will become a negative customer experience in no time.
6. Proactively Listen
Listening to the customer's queries is one of the little secrets that sometimes customer service agents ignore, leading to poor customer service. Proactively listening to the customers helps provide relevant solutions to the customers and helps in customer retention and improved customer journey mapping. Watch for the signs and the services that are not pleasing the customers while listening to them minutely and implement them accordingly for maintaining consistency in the customer service.
7. Keeping Promises
Using omnichannel can be sometimes overwhelming in terms of matching the brand message and its promises to its customers. The best practice for consistently delivering extraordinary customer service is to keep on the promises made by the company to its customers. While delivering the promises, sometimes the exact words don't match, but the underlying message must be consistent with the actual topic. Every customer service and marketing operation of companies must be tied to the brand's promises while connecting to the target audience.
8. Set Clear Expectations
Setting a mission and clear expectations for the company to its customers is the best way to measure the efficiency of delivering the product and service. Don't be afraid to let your customers know what they can expect from your product and service so that there are no false claims anyone can make later. It is very common for a company to get involved in busy periods. Inform your customers prior that there can be a delay in response to the queries so that customers' can build a higher-level trust in your brand.
9. Rectify Mistakes
Mistakes are very common in customer service. It is important how the brand is rectifying those customer service mistakes. If an agent has made any mistake while resolving any customer's queries, the brand should take responsibility for that mistake and rectify that by reaching to that customer. In this way, a company can go the extra mile while delivering customer delight and spreading positivity in the customer's mind. This will in turn not only set an example of wonderful customer service but also sets a positive brand image in the market.
10. Use Feedback
Feedback is one of the most vital elements that help in serving consistent customer service and it helps in product development. Customer feedback helps in identifying the areas of improvement and thus businesses can act on those areas specifically to satisfy the customer's needs. A company that strictly adheres to its customer's feedback is proven to deliver striking customer service consistently.
Conclusion
Gaining a competitive advantage in the market nowadays is not enough to be the no. 1 position in the market. Companies need to go beyond the customer's expectations by serving their latent needs before they feel the need for the products. Successful brands know how to serve the latent customer needs while providing them magnificent customer service, thus maintaining a consistent position in the market. Once brands design how to maintain consistency in customer experience and utilize customer feedback properly, then the brand can easily gain the top position in the market.