Introduction
Research says that the healthcare sector is quite fragmented while making the information flow extremely stringent. Moreover, outsourcing in the healthcare sector has been started lately. But statistics portray that the global healthcare BPO services market is expected to rise USD 3000 billion by the end of 2022. In recent years, medical institutions have focused on delivering high-quality patient care by outsourcing non-core business activities. With increased efficiency and lower costs, outsourcing is the perfect solution for any kind of medical facility.
What do you mean by Healthcare BPO Outsourcing?
Healthcare BPO refers to the activities where the healthcare organization contracts its certain business functions to an external service provider. Outsourcing non-core business activities let the healthcare providers and the hospitals focus on their core business functions thus treating the patients more efficiently.
Predicting the issues and solving those before they create a problem for the patient has become the most commonly used norm in this sector. Customer experience improvement in the healthcare sector has come a long way. Still, there is a lot of room for improving patient experience, and there comes the role of healthcare business process outsourcing.
Learn More: Choosing The Right Healthcare BPO Partner For Medical Billing And Other Services
Common Healthcare BPO Services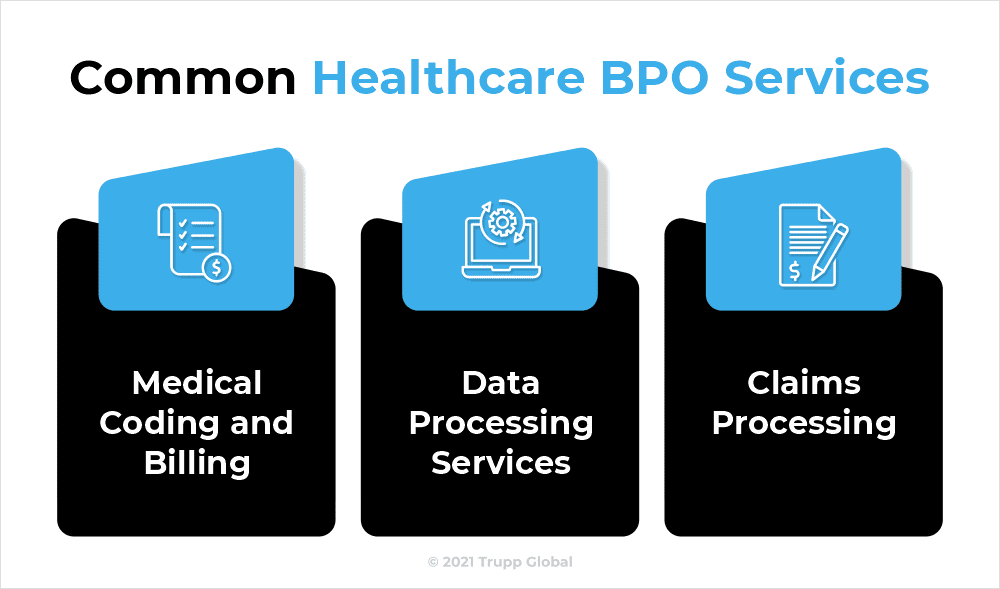 1. Medical Coding and Billing
Every day hospitals and medical professionals deal with tons of medical records that need coding and billing that is pretty complicated. Without the proper knowledge and expertise, healthcare professionals can face significant errors and delays in processing patient records and bills. Here comes the picture of outsourcing medical billing as a part of healthcare BPO while preventing any billing and coding hiccups.
The professionals of the healthcare BPO are trained enough with the necessary information for performing their job efficiently and accurately. This allows the healthcare facilities to focus on the core business tasks like improved patient treatment, care, medical research, and many more.
2. Data Processing Services
Data processing services are the activities that the healthcare providers have to process in addition to patient care services while updating them in greater volumes every day. The medical data includes:
Drug Inventory
Prescriptions
Tests and Lab Reports
Patient Insurance Details
Bill payment Records
3. Claims Processing
Processing patient claims can be considered as one of the most critical activities in this healthcare sector. Patients must have proper medical claims from their respective insurance companies. But when the count exceeds the average count, it is very difficult to maintain the accuracy for each claim.
Hence, it is a wiser option to outsource the claims processing task to a healthcare BPO for close monitoring. With the required manpower and appropriate resources to perform the job, skilled teams are allocated for processing large volumes of medical claims processing.
Learn More: 6 Healthcare BPO Services That Are Changing Modern Healthcare
Benefits of Healthcare BPO Outsourcing
The healthcare sector, being one of the biggest industries in the world, is focused on diagnosing and treating patient's ailments. However, the organizational focus leads to delivering a quality patient care experience and maximization of staff efficiency. Hence, there is a huge rush of patients in almost all medical facilities and hospitals, staff is busy attending patients and in many non-care responsibilities. It is the reason; healthcare facilities need to create a balance between non-core activities and patient care. Below are the benefits of outsourcing healthcare BPO that can be considered before choosing the right BPO partner.
1. Focus on patient care
Though patient care in the healthcare sector has not been considered as the most priority, many healthcare facilities are gradually progressing towards serving the quality patient care that the patients deserve. Hence, outsourcing administrative and redundant tasks to the BPO companies will significantly lead to enhanced patient experience with the particular healthcare facility.
2. Reduced Costs
Outsourcing certain business functions save money by reducing the operational expenses of hiring and training the in-house team. While outsourcing can be done in less money than maintaining an in-house team. Apart from that, maintaining an in-house team needs more focus that can be given to core business activities if outsourced.
3. Access to Skilled Professionals
Hiring a reputed healthcare BPO adds value to the existing team of the medical facility. Outsourcing will lead to access to a pool of experienced professionals who are trained to handle the particular tasks of billing and coding services, claims processing, etc. However, the improved infrastructure of the BPO agency can also be used for better output.
4. Avoid Costly Blunders
The healthcare sector has many rules and regulations especially in the spheres of health insurance. Professionals interact with sensitive data like patient data, records, medical information, etc. that needs extra security protocols so that they can be retrieved when required. Moreover, health insurance accountability and portability abide by multiple regulations and guidelines that the right BPO partner will handle better as they are aware of the latest updates of the guidelines while avoiding billing issues.
5. Competitive Advantage
When the digitized data can be accessed quickly, it becomes very easy to check the patient records instantly while running an analytical diagnosis that can yield important insights related to patient care. If the healthcare service provider outsources its tasks like medical coding, billing, data entry services, then it can focus on its core business area thus getting a competitive advantage in the market.
6. Data Storage and Recovery
It is very essential to store data safely and can be recovered easily if lost. This can be a pain point for healthcare professionals for maintaining the data in a secure place. Outsourcing these activities to healthcare BPO agencies leads to secured storage to multiple locations while providing extra protection against data breaches. Compared to physical documents, digitized data are more secure and can be easily replicated if needed.
7. Data Security
Data security is the most crucial aspect irrespective of any sector. However, in the healthcare sector data security is everything as it can be patient records, bills, prescriptions, inventory records, and many more. Storing these to the cloud can be safe but security measures need to be checked otherwise it cannot be restored if lost for any reason.
Learn More: Benefits Of Outsourcing Healthcare BPO Services
Conclusion
Improved customer i.e., patient experience provides healthcare service providers the scope of delivering a positive and long-lasting experience. But a disappointing patient experience may lead to damage to the brand reputation. However, understanding customer's journeys, anticipating the communication process, leveraging new infrastructure and technologies in healthcare facilities can create a customer delight which leads to driving customer loyalty and satisfaction. Healthcare BPO is the one-stop solution for achieving all these goals. From cost-effectiveness to delivering quality patient care, the smooth operation flow to properly providing medical billing and coding, healthcare BPOs are a boon to the medical service providers.