Introduction
Businesses across the world are facing various challenges including client dependence, insufficient staff, and the balance between quality and quantity of products and services. Unfortunately, companies tend to neglect the need for technical support. Considering how many modern businesses rely on digital infrastructure, technical support is something that plays a vital role in day-to-day business operations.
Failing to deliver quality customer service is a sign of losing profit as well as customer loyalty in no time. Irrespective of any type of business, technical capabilities are a quintessential part of the companies that are involved in almost all core functions. Better technical support helps in customer retention that results in maximized profitability. It is very crucial to understand the concept of technical support and its role in business.
What is Technical Support?
Technical support is defined as the range of services aimed at providing solutions through a website or app to the customers' queries of the products. Technical support can be provided either by an in-house team or can be outsourced to an agency for better results.
Virtual technical support is something that every company should imply on their website to solve customer's issues and queries instantly. There is a popular confusion that businesses believe when it comes to technical support. Technical support is not used for educating customers but rather for resolving customer's queries.
5 Levels of Technical Support
Depending on the requirements of the customers, omnichannel support can be used in solving a customer issue in terms of email, voice support, live chat support, and so on. Well-structured technical support can be classified into five distinct levels as Pre-support, Self-service, 1st Line Support, 2nd Line Support, 3rd Line Support.
1. Pre-support
The pre-support level mostly comprises the search engine results that users usually go through before reaching the company website. It means that most of the users search their queries on the web before clicking the company website. Some of the users may give positive reviews or may educate the customers that offer an incredible insight in getting the optimal result of the product usage. Else, they can also help the users in troubleshooting the issues.
Well, it may sound great on paper. But there can also be a possibility that dissatisfied customers may write negative reviews too. As a company, it is crucial to check the forums, sites, social media pages, and website comments regularly to reach the customers who are not happy with the product and write negative comments. Proactive seeking of these channels can lead to more customer interaction, thus having a lesser number of unhappy customers.
2. Self-Service
Self-service is the next level of tech support that allows the users to solve product-related problems on their own using the help section on the website. For many customers, self-help is an easy alternative rather than contacting the help desk. The self-service phase includes various knowledge bases, FAQs, self-help wikis, etc.
3. 1st Line of Support
Unfortunately, knowledge bases and FAQs cannot solve all the queries of consumers. In this scenario, users need to speak with someone from the company that means first-line support. Technical support personnel at this phase generally solves simple issues. They have the basic product knowledge or can share the FAQs with the users who are not aware of it. Most of the problems at this level are solved by email support.
4. 2nd Line of Support
Second-line support is mostly related to dealing with complex issues that are not solved in the 1st level support. As users are becoming more tech-savvy, the tech support executives are facing challenges in solving the customer problem at the 1st level. Hence, most of the issues get solved in this phase as the staffs are more experienced in product knowledge and its uses. They can give technical guidance and support to the users by resolving their issues.
5. 3rd Line of Support
Third-line of support is considered as the pinnacle of the lot. This line of support deals with the most complex issues that are not solved even in the 2nd line of support. The outlier cases are designated to the managers or someone from the R&D department. This phase is characterized by access to the supreme level tech resources while using advanced technologies.
Learn More: 5 Reasons To Outsource Your Technical Support Services Today
Role of Technical Support in Businesses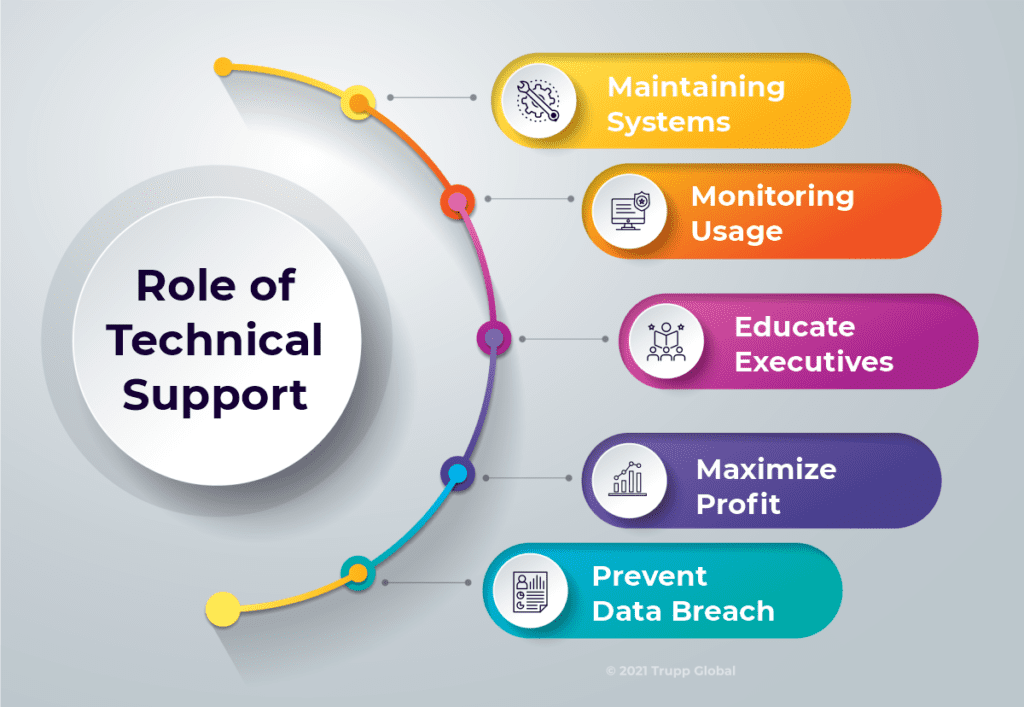 Technical support can provide a business a competitive advantage in the market by executing business processes efficiently and quickly. However, the role of technical support also revolves around making crucial business decisions while maximizing profitability. Below are the few advantages that a company can gain while implementing technical support in their business.
1. Maintaining Systems
Businesses have infrastructure and systems for their daily operations. While the business owner can certainly take the necessary responsibility of upgrading and checking the systems on time. However, there are core business functions that the management has to involve in for running the business. For the smooth flow of the system and the infrastructure, technical support plays a vital role.
2. Monitoring Usage
Whether a company wants to know about its customers or its employees, technical support is a boon for this process. The role of technical support comes in place where human error cannot identify the issues properly. However, technical support can be used in monitoring resource usages, data breaches, etc.
3. Educate Executives
With a proper technical support team, a company can efficiently educate its whole team regarding security and network systems. Every company has sensitive information on the web that needs to be secured and restored if necessary. Hackers come with new techniques now and then to steal company data. To deal with these techniques, a technical consultant must have to stay updated on the trending hacks.
4. Maximize Profit
Profit maximization being the sole motive of hiring tech support for a company, it comes with immense benefits like maximizing profit and efficiency in serving customer issues. Though it is a fact that one has to pay for outsourcing tech support, that amount is very less compared to the benefits that the company reaps by outsourcing tech support.
5. Prevent Data Breach
In the last few decades, hacking is a trend that is found in almost all sectors of industries. Irrespective of sectors, every company should opt for tech support to make their systems secure. Without any tech support, businesses are vulnerable to data breaches that can cause blunders not only in profitability but also in the sphere of customer loyalty, damage in brand reputation, legal issues, and so on.
Learn More: Why We Love Technical Support (And You Should, Too!)
Conclusion
Being one of the most critical elements considered for the user experience for product-based companies, technical support plays a vital role in improving profitability and customer relations. The concept is different from what it is called better customer service and solving technical issues. The most important aspect that companies can swear by for retaining their customers is by improving their technical support team either by keeping an in-house team or by outsourcing it.