Introduction
Customer Support has become one of the most vital elements that bind businesses with their customers. Companies of all sizes believe in serving their customers at their best so that they can reap maximum benefits in terms of profit and market share. Whether it is a multinational company or a mid-sized organization, outsourcing customer service is the most common trend that has been witnessed across the various industrial sectors. Customer service outsourcing is one of the most popular ways organizations endeavor to make themselves efficient in the market.
With the vast changes in consumer behavior, expectations, and technological advancement, customer service has evolved to become a niche segment that requires much focus on training, infrastructure, and hiring skilled people to name a few. As a result, companies started outsourcing their customer service operations to outsourcing agencies for cost reduction and proper allocation of resources in the core business models. However, outsourcing customer service to an omnichannel outsourcing partner provides more ways to solve customer queries and key data for the decision-making process.
How is Customer Support Outsourcing Important for Your Business?
With the advancement of digitalization across the globe, the prevalence of PCs and mobile devices has led to the development of the relationship between the merchant and the customers. For instance, customers expect to address their concerns from the companies by using multiple channels. They are no longer content with receiving services only within business hours that too using limited channels of customer support. Hence, outsourcing agencies have recognized consumer needs by fulfilling the business requirement round the clock while providing maximum customer satisfaction.
The best customer service providers have tailored services that fit all types of businesses. Few specialize in maintaining customer communications such as help desk services, order processing. While some are highly proficient in providing 100% customer satisfaction, customization is the only key to sustain in the BPO market since companies are evolving their business strategies so do consumer behavior.
Benefits of Customer Service Outsourcing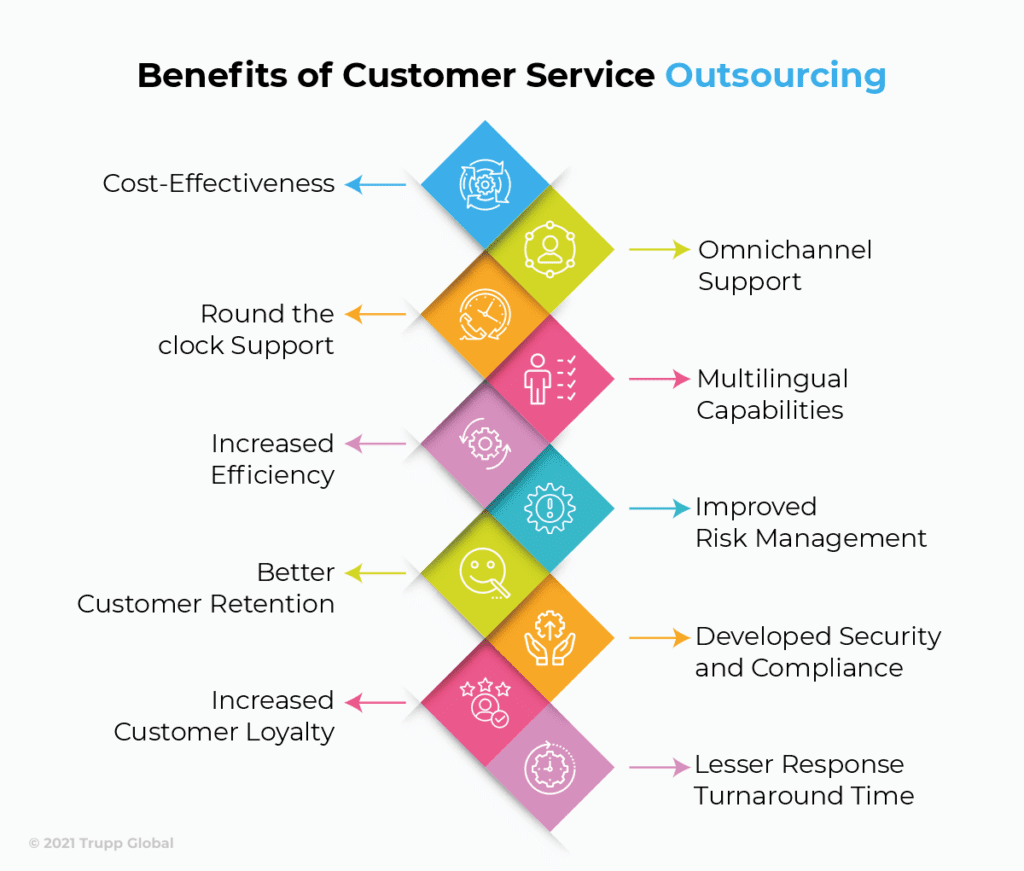 Starting from manufacturing companies to e-commerce agencies, customer service is something that has a significant impact on the business. Apart from cutting expenses, there are immense benefits companies achieve when they outsource their customer service to a third-party service provider. Below is a detailed description of the advantages of customer service outsourcing that will help companies make a concrete decision of choosing the best outsourcing partner.
1. Cost-Effectiveness
Since cost-efficiency is one of the biggest drivers of outsourcing, organizations tend to outsource customer-service operations to outsourcing agencies that lead to huge cost savings. Companies don't have to bother about huge infrastructure, hiring of skilled staff, conducting training, and so on. Not only it incurs huge capital but also it is time-consuming. Hence, outsourcing is the best option as the third-party agencies have efficient personnel, necessary infrastructure, streamlined processes that are specially curated for providing excellent customer service.
2. Omnichannel Support
Customer service outsourcing provides a plethora of access to omnichannel support such as email support, live chat support, voice call support, technical support, mobile messaging, social media, and many more, which many companies find difficult to take up the whole responsibility on its own. If the customers find multiple channels while reaching the company for any assistance, the happiness factor increases a lot. Hence, outsourcing agencies can only provide all these support functions while maintaining proper communication efficiently.
3. Round the clock Support
From big multinational giants to mid-sized organizations, most of the companies nowadays target customers across the world. It requires round-the-clock customer support services. Whether it is a holiday or a weekend, resolving customer's issues should be the priority. In this scenario, it is better to outsource customer service to a specialized third-party service provider that will provide 24*7 customer support services. Research says that companies that outsource their customer support service to renowned outsourcing companies experience more profit than those which struggle to maintain a proper in-house customer support team.
4. Multilingual Capabilities
Just like the brand ambassadors, the outsourced customer service team of the company should be well versed with product knowledge, market updates, and corporate culture. Always make sure that the customer service should know the language that your customers speak. In this case, offshore outsourcing agencies are a boon. The call center agents must be fluent in the language as well as should be polite and know the exact tone while communicating with the customers.
5. Increased Efficiency
No matter what sector the business belongs to, customers are considered as the lifeline of the business. For instance, manufacturing companies specialize in manufacturing rather than resolving customer queries. The beauty of a third-party service provider is that they do their best to delight the customers. Whereas, companies can easily focus on their core business functions and make a better allocation of resources in all administrative functions.
6. Improved Risk Management
By far one of the most popular benefits, organizations can get from outsourcing their customer service is the risk management of their businesses. Since, the BPO companies have skilled professionals, improved technologies and infrastructure, and strong insights into potential market risks, they can help you in dealing with the market risks. The resulting risk management can help in focusing on core business functions that in turn lead the business to grow in the market.
7. Better Customer Retention
Customer retention is more important than new customer acquisition. Frequent interaction with the customers creates an opportunity of strengthening customer relationships thus increasing brand value. BPO partners are known for their improved customer service that will lead to customer retention. They have infrastructures like avant-garde creative programs and CRM technologies that take feedback from the customers and track customer behavior thus serving the best customer service.
8. Developed Security and Compliance
Many outsourcing agencies are very strict in their data compliance and security protocols because they have to deal with many sensitive data of their clients. They have different methods of protecting against data breaches such as security checks, access to internet history, prohibiting the use of cell phones inside the offices, etc. that make the firms meticulous in handling tough security and compliance issues.
9. Increased Customer Loyalty
When the customers of a company are addressed with care and their issues are solved within the stipulated time, then the company gains a higher degree in the field of customer loyalty. "Customer is the king of any business", hence the king should get the royal treatment. Here comes the role of a renowned outsourcing partner that will take care of the whole customer service department and hence improve customer loyalty. Customer loyalty is something that every company can swear on its growth and profit.
10. Lesser Response Turnaround Time
Can you imagine anything worse than putting your customer on hold for a longer time on a call? As a general practice for improved customer service, it should be strictly avoided. Having access to an entire customer support team means that the customers do not have to wait for long before having their queries solved. They should get their problems solved within minutes. It is the responsibility of the company to give proper knowledge of their products, services, and company culture to the outsourcing firm so that they can work on a shorter TAT.
Conclusion
It is advisable to perform a risk-benefit analysis of hiring an outsourcing partner for your customer support function. However, every organization indeed seeks cost efficiency as the biggest driver of customer service outsourcing, but this cannot be the sole motive of it. A company that emphasizes providing quality services to its customers should consider the core competencies, testimonials and track the record of any prospective BPO firm before making its move.