Introduction
Outsourcing is considered one of the most resilient sectors amidst the pandemic that has flourished leaps and bounds. However, amongst other industries, the outsourcing sector has experienced severe disruptions too that have created an impact on the expected trends in this year. The BPO industry has rapidly evolved and embraced the latest technologies for the improvement of service delivery.
COVID-19 pandemic has severely impacted the BPO industry in a multi-faceted way. Post pandemic many BPO companies have to adapt to a lot of technological and digital changes for the continuation of their functions at the optimum condition. The most important factor that most of the companies have learned in this pandemic situation is going digital and flexible.
Role of Digital Innovation as a Catalyst for Outsourcing Agencies Facing Adversity
Irrespective of the COVID-19 pandemic, every business was going digital as customers are preferring digital channels. Right now, digitalization has gone paramount, since every sector of the industry including outsourcing has adopted digital platforms and technology as their business model. With the right use of fast-paced digital technologies, BPO companies have to stay updated and ahead of the curve for their clients.
Digital innovation can create a significant impact on the company's progress in several spheres from business model to quality service delivery. With cutting-edge digital technologies, a BPO company can make innovations in its business models so that it can create its footprint in the market. Implementing digital platforms made the entire operation more flexible, accurate, affordable, and accessible.
Outsourcing Trends That Will Reign 2021
The outsourcing sector has constantly fueled itself with the latest technologies and innovative strategies for problem-solving. Following are the top 9 trends that will become the flag bearer of the entire BPO sector this year.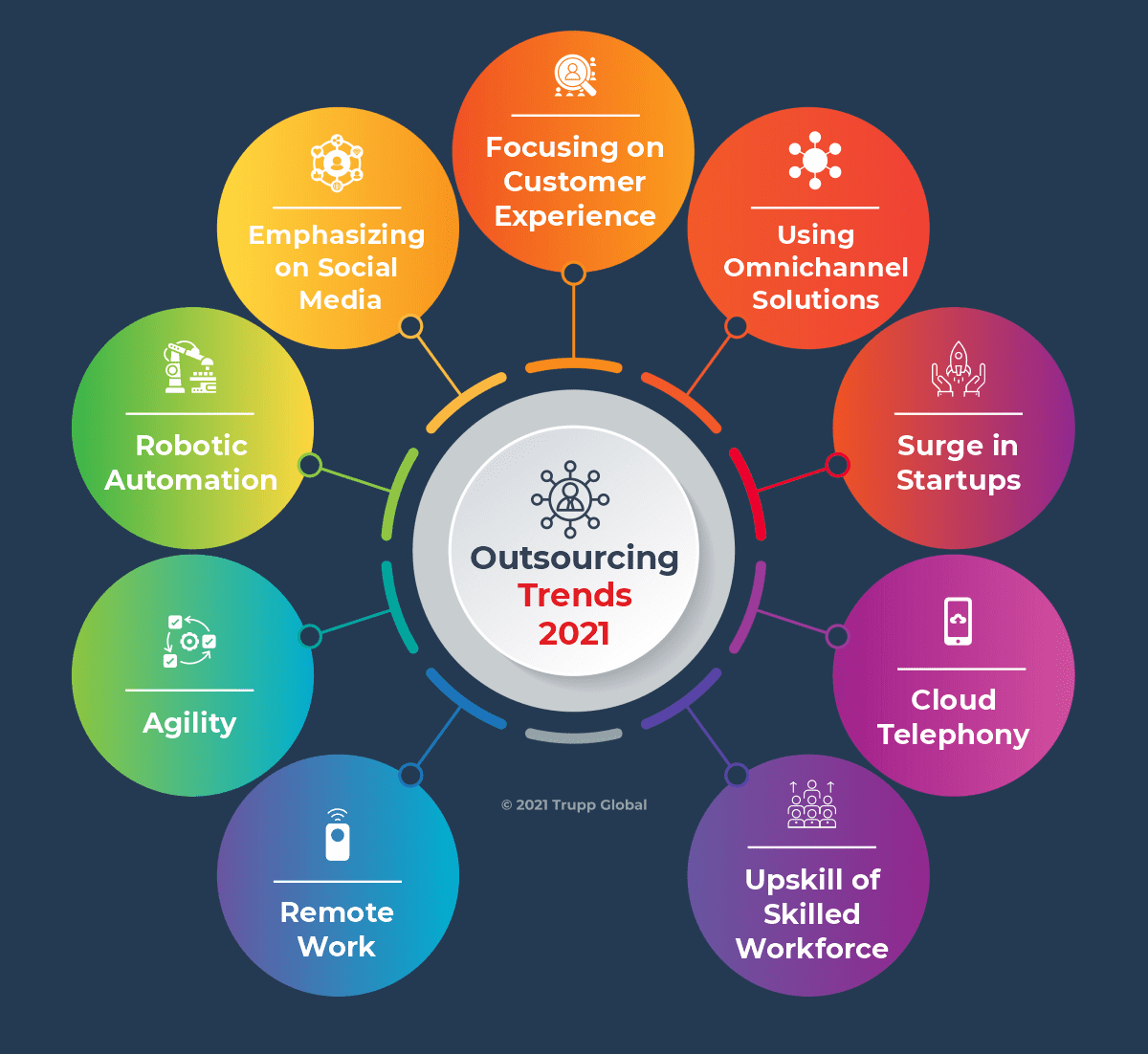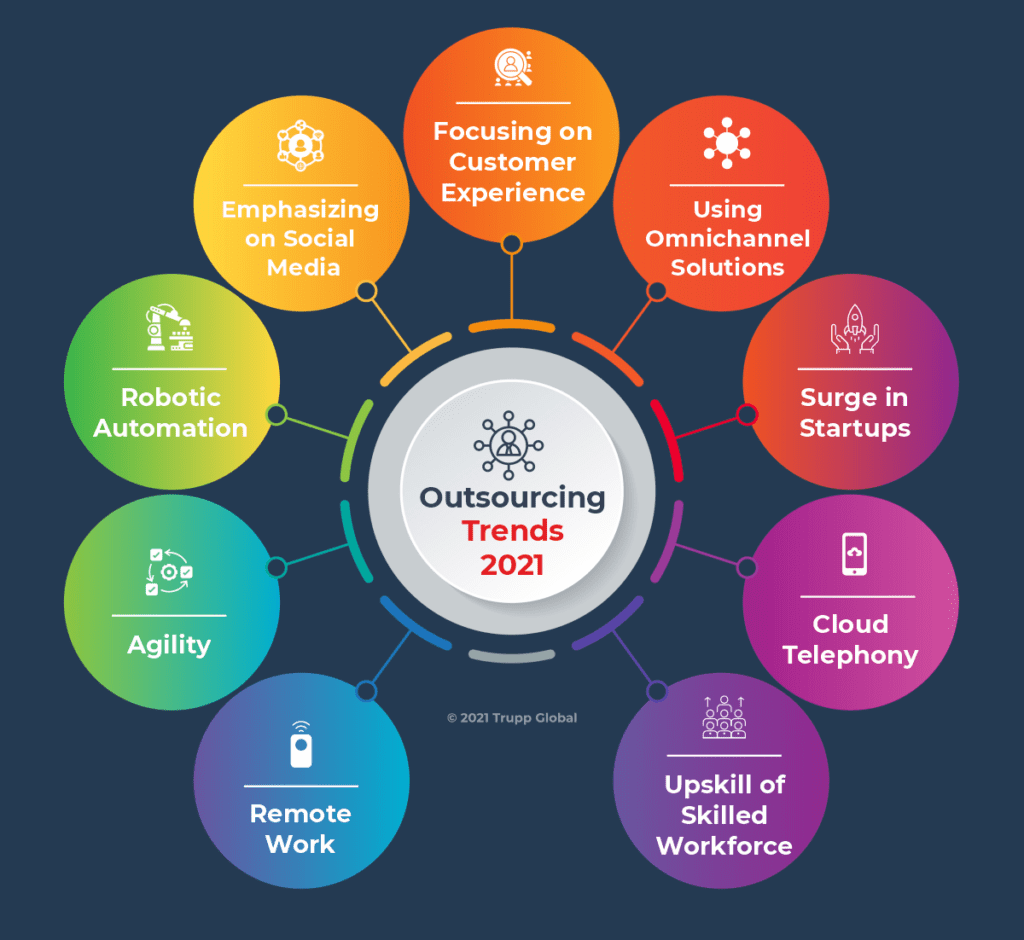 1. Remote Work is New Normal
The impact of COVID-19 has created a devastating effect on the global economy. Most of the companies are adopting remote working as the new normal way of doing business. BPO companies globally have adopted remote working facilities for the smooth flow of business operations.
2. Adoption of Robotic Automation
The outsourcing sector has greatly relied on the latest technologies for meeting efficiency and excellence in the business. From voice automation to chatbot-based live chat services, BPO companies are adopting Artificial Intelligence and robotic automation for enhancing the revenue cycles, data confidentiality, better service delivery, and so on.
3. Agility
This pandemic has taught multiple business lessons to organizations. Now businesses know the pros of working with small teams. Both MNCs and SMEs outsource their non-core business functions such as customer care, live chat, telemarketing, payroll, and so on. As startups tend to outsource more in 2021, BPO companies emphasize data security thus achieving more agility in businesses.
For organizations that require B2C support like retail and e-commerce, management of social media is crucial. Social media is considered one of the most significant and well-paid tools used in terms of promotion. Most e-commerce companies focus on social media channels for more customer engagement and customer acquisition. BPO companies should focus on this trend to get more business from the companies that are focusing on their digital footprints.
5. Using Omnichannel Solutions
Businesses must focus on a unified communication strategy across all the communication channels for providing a seamless customer experience. For this, omnichannel is the best way to maintain the consistency and the quality of customer service across the various channels. BPO companies should adapt with omnichannel support to serve customers better than ever.
6. Focusing on Customer Experience
Once the companies have battled with their in-house operations and have focused on establishing agile teams, then the most important aspect that needs to be focused on is customer experience. Organizations are solely depending on building successful customer journeys that BPOs need to emphasize. The services that need to be focused on by outsourcing agencies are mystery shopping, customer journey mapping, omnichannel, insight management, etc.
7. Upskill of Skilled Workforce
The industry keeps on expanding the horizon for serving customers in a better way by providing them customized solutions. Hence, outsourcing agencies must focus on hiring talents with upgraded expertise and skills. With the advancement of technology and automation, the professionals of the BPO companies must be skilled enough to deliver quality services to their clients within the deadline.
8. Cloud Telephony
Cloud Telephony refers to the internet services that are used for managing the work. There are numerous benefits of cloud telephony such as greater technology usage, cost-efficiency, enhanced flexibility, increased security, and improved scalability. Since most of the employees nowadays are working remotely, hence the rise of cloud telephony is on top this year as it helps in improved communication of the companies to their customers virtually.
9. Surge in Startups
Earlier, mostly multinational giants tended to outsource their non-core business functions to the BPO companies compared to SMEs. However, during this pandemic, many startups have started outsourcing their back-office functions so that they can focus on core business functions rather than struggling with non-core office functions.
Wrapping Up
Outsourcing is proven to be a great option for managing roles and responsibilities with greater scalability and efficacy. To make your business more competitive in the market, it is essential to adopt the modern trends of doing business and equip yourself with the latest technologies. It offers smart and timely solutions to customers. Having partnered with an eminent outsourcing agency with exceptionally skilled professionals can change the future of a company. The contemporary world of business is very competitive; hence the above trends will dominate this year in terms of the outsourcing industry.