Introduction
In today's digital world, everyone is using social media platforms because of their immense benefits. Across the globe, there are more than 4.2 billion active social media users. Social media for e-commerce businesses plays an inevitable part where they can reach their potential customers. You can not only promote your products and services on social media but also you can learn about your competitors and the preference of your audience. For e-commerce businesses, social media is the way to send a brand's message to the right audience at the right time. If the content stands enough to get public interest, it will drive sales, traffic, and customer loyalty.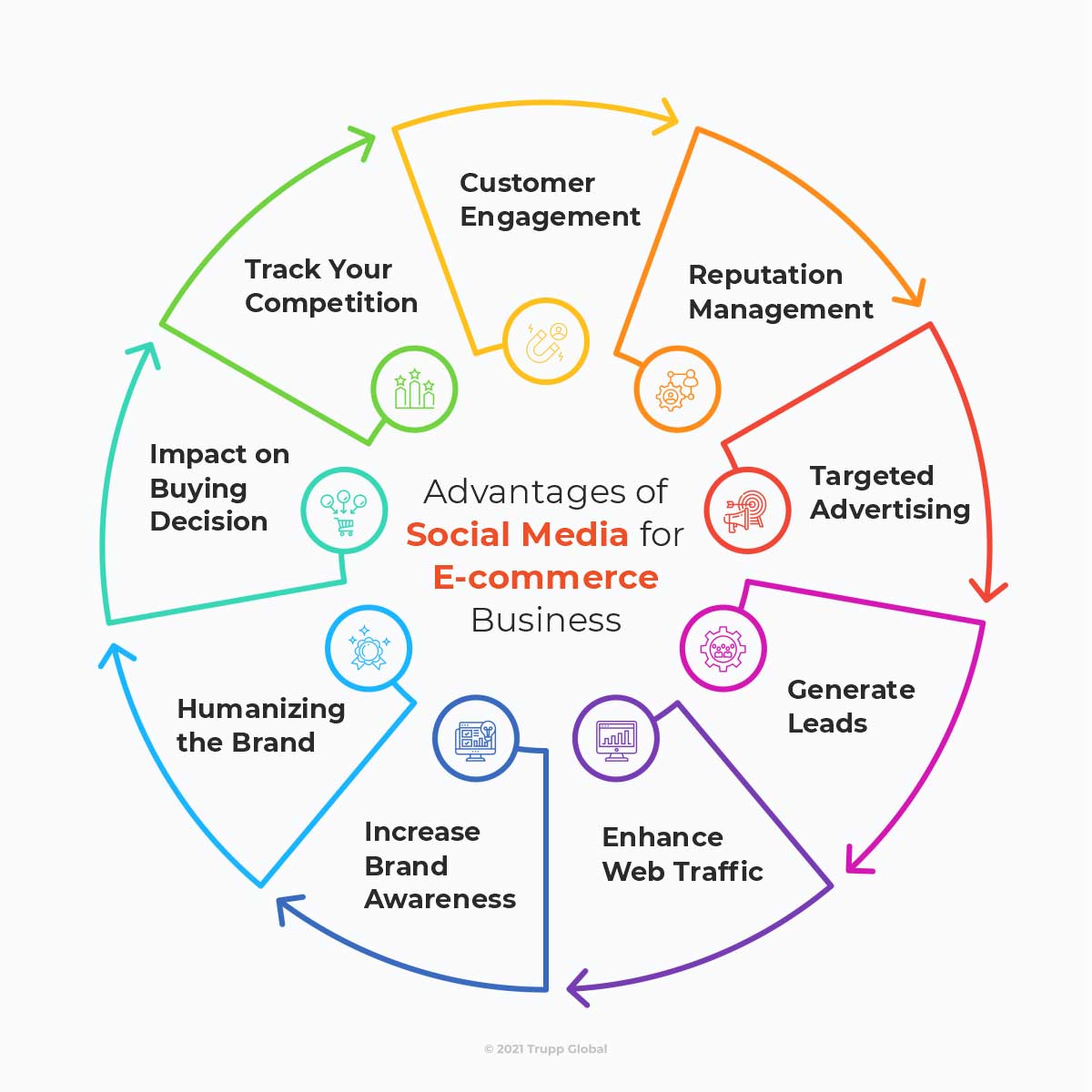 Leveraging social media for e-commerce is a no-brainer. Below are the top 9 reasons why it is imperative for e-commerce companies to implement social media that will ensure the brand's success.
1. Customer Engagement
Social networking sites literally allow you to connect with your audience and followers and likewise give them the chance to interact with your brand. Unlike other traditional media, social media sites work through two-way communication. It is the best platform to engage your customers with quality content and respond to customers' comments and messages. However, social media monitoring tools can also be integrated for keeping an eye on what others are talking about across social media.
2. Reputation Management
People will talk about your company on social media platforms in all forms whether you respond or not. Reputation management is one of the by-products of using social media for e-commerce that includes your response to the comments of the followers. Sometimes the comments can be negative too, but you have to respond in a polite way so that the customer gets delighted before it gets turned into a critical issue. If someone is praising your brand, draw their attention by sending plenty of thanks.
3. Targeted Advertising
One of the most inexpensive ways of promoting e-commerce business and distributing content is by using social ads. They offer multiple targeting options within your budget so that you can reach the right audience. Either you use social media for e-commerce to formulate custom ads or promote any offers across all the social channels, you will get benefits if it is done properly at the right time. Ad targeting options include geography, demography, language, online behaviors of the target audience so that you can reach the exact audience and only pay for the exact number of viewers.
4. Generate Leads
Social media offers an easy way for your followers and customers to express their interest in your brand. Lead generation is one of the key aspects of social media for e-commerce that most of the advertising formats are meant to be collecting quality leads. There are Facebook Ads, Instagram Ads, etc. from where you can reach your target audience. There are paid marketing campaigns where you can add different posts, call to action, and many more.
5. Enhance Web Traffic
Social media ads and posts are vital aspects that drive traffic to the website. You can share different content such as blog posts, offers, and discounts to your social channels. An e-commerce company can use its social media channels for promoting its products and discounts to attract more customers, hence the website traffic gradually increases. Either formal or informal, social media paves the gateway for showcasing your expertise while driving traffic to your website. Use call to action to your posts and provide a link to your website in your website, and you are good to go.
6. Increase Brand Awareness
With more than half of the world's population that uses social media sites like Facebook, Twitter, Instagram, Whatsapp, etc. that makes it is an obvious place for reaching a highly targeted audience. Research says that more than 83% of Instagram users claim that they discover new brands and products on the platform. If you harness the power of social media for e-commerce, then you will succeed in creating brand awareness among your target segment of the audience.
7. Humanizing the Brand
Social media is the best option to humanize the brand. Here the brands can create meaningful relationships with their potential customers and followers in the channels. Brands can introduce their followers to the foundation of the company and showcase the ways the existing customers are benefitting from your products and services. Trust-building through authenticity builds receptiveness of the marketing while driving new business.
8. Impact Buying Decision
Nowadays, customers do research a lot before buying anything online. Social media for e-commerce plays a vital role in creating an impact on purchasing decisions. Your behavior on the existing customers on social media acts as the proof of your digital presence that portrays a significant impact on customers' minds. The number of sales is directly related to the online networking of e-commerce brands. Positive reviews, creative posts, customer engagement, product descriptions, online reputation management, etc. are responsible for creating an impact on the buying decision of the customers.
9. Track Your Competition
Social media for e-commerce is an effective way of tracking competitive websites. You will get to know about the marketing tactics and sales practices of the direct competitors. However, we can learn from your competition and implement the best approach to your customer segment or in a niche segment while showcasing your promotions and offers. Tracking competition may lead to finding new ways of establishing and protecting brand reputation leading to improved sales.
The Bottom Line
Each business is different and so does the strategy for social media for e-commerce and the ways of measuring success. Social media platforms will definitely help in achieving goals, but it is important to use them in a way so that your brand succeeds. Making social media the point of contact with your customers will not only help you in attracting more leads but also it has several advantages that have been mentioned above. The e-commerce brands can connect to a huge crowd base while converting them to their client base only by harnessing the power of social media.