Introduction
Many businesses in today's digital world are considering Business Process Outsourcing as their way to work efficiently and faster to beat the tough competition in the market. Whether it is a multinational giant or a startup, outsourcing is for all and every business can get benefits while opting for Business Process Outsourcing if it is done correctly. If any company is new to the process of outsourcing or few have been holding back the process, it means you must have encountered lots of myths and misconceptions related to outsourcing. In this blog, we are trying to debunk the common myths related to Business Process outsourcing faced by many companies before they opt for the process.
Myths of Business Process Outsourcing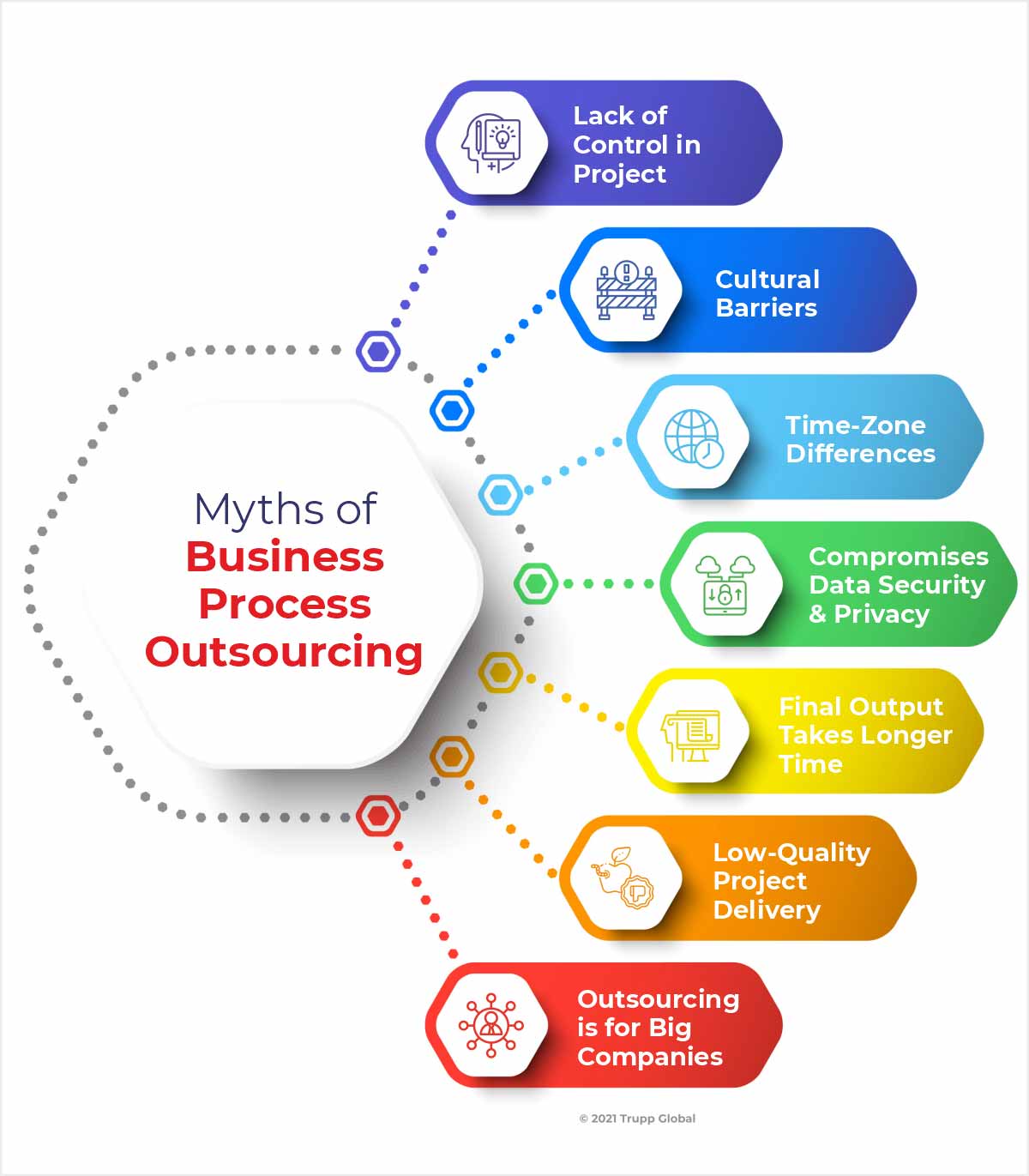 As familiar as the term is, Business Process Outsourcing has been popular among the companies that are successful. However, many brands still don't know whether they can pursue outsourcing or not due to some misconceptions and myths which are not true. Below is the list of common myths about outsourcing that many companies may have encountered.
1. Lack of Control in Project
The fact is passing over the control of some part of your business to an outsourcing agency does not mean that you are losing control. In reality, outsourcing service providers involve their clients fully because they need the information to deliver the work within time. Moreover, Business Process Outsourcing companies have experienced employees who are known for working on projects successfully while mitigating all the challenges.
One thing that needs to be maintained is the communication between the two agencies that will help each company to understand the situation related to the outsourced work. So, outsourcing will provide you more time to focus on your core business areas rather than leading to a lack of control of your outsourced project.
2. Cultural Barriers
Gone are the days when outsourcing only seems to happen in different countries that create a language and cultural barrier. The globe is now more integrated than ever. All credit goes to the technologies that the Business Process Outsourcing agencies are using to serve their clients globally. The language barrier can be solved easily because most companies across the world have adopted the English language.
When choosing an offshore service provider, check the language they will be using while communicating with you. Outsourcing agencies in India, the Philippines, etc. use English as their mode of communication and the prices are also lower on the side compared to the western countries.
3. Time-Zone Differences
Companies often think that collaborating with an outsourcing agency in a different country will lead to time differences. However, time zone differences can be utilized in a positive manner. So, if your company needs 24-hour customer service, then you can opt for an agency whose working hours are just opposite to yours.
Moreover, there are many offshore Business Process Outsourcing agencies that offer 24 hours support to their clients. In this scenario, time-zone differences will not matter. Rather than thinking a lot that time-zone differences can affect your final output of the outsourced project, you can easily make use of the advantages that you are getting whenever you are outsourcing your business to an offshore partner.
4. Compromises Data Security & Privacy
Well, you may have heard many times that outsourcing leads to compromise in data security and privacy, but it doesn't happen like that. While outsourcing any business process to a Business Process Outsourcing company there are lists of protocols that companies need to adhere to strictly. Outsourcing agencies' reputation depends solely on the delivery of their project and how they are dealing with their clients.
During the time of outsourcing, you have to always check for the non-disclosure process and the security protocol the agency is following. A non-disclosure agreement needs to be signed so that they will not leak sensitive information and intellectual property rights to anyone. A reputable BPO agency with a positive track record must be chosen if you have sensitive information.
5. Final Output Takes Longer Time
This is not a total baseless myth that outsourcing sometimes takes a longer time to deliver the final output. The truth behind this myth is that sometimes lack of proper communication and the higher overhead cost of the in-house staff sometimes lead to delay of the project delivery. It can happen due to multiple reasons such as lack of information from the client's side, regular changes in the projects, lack of technological expertise in the outsourcing agency, and so on.
The fact is that if you want to get your work done at the proper time you have to mention the requirements to the agency beforehand and timely, a proper communication channel needs to be maintained. Last but not least, always choose a Business Process Outsourcing agency that has the required technology and expertise in the required field.
6. Low-Quality Project Delivery
The myth related to lower quality project delivery is not completely false. But there are many facts that companies need to know in order to minimize the risk for lower quality projects. Companies must take time to choose the business process that needs to be outsourced. Then while choosing a renowned Business Process Outsourcing company, the experience of the agency needs to be checked and also the number of experienced staff.
Checking testimonials and also reviews plays a very important role while reducing the chance of getting a lower quality of the project from the outsourcing agency. The most important thing that companies should keep in mind is that they shouldn't go for cheap services because there is a chance that the services they will get might get compromised.
7. Outsourcing is for Big Companies
Many small companies think that outsourcing is only for big companies. Well, this is not true at all because there are a plethora of Business Process Outsourcing agencies that cater to all types of companies starting from multinational giants to small startups. It depends on the needs of the company and the type of function that the company wants to outsource. Most of the BPO agencies try to be long-term partners with mid-sized companies so that they can be part of their growth.
If you are a small company and are not able to afford big BPO agencies, you can switch to mid-sized service providers that are specialized in serving small and medium-sized businesses. They can offer you talent, technology, efficient solutions to various projects that will lead to economies of scale for the businesses.
Wrapping up
Outsourcing is just like a collaboration between two companies that have their mutual benefits. The quality of outsourcing depends on how the two agencies nurture the relationship and maintain communication with each other. No company can be perfect in all business functions. Utilizing the positive aspects of each company, outsourcing can really be fruitful if the client chooses a reliable agency that caters to the customer's needs and has proper experience in that particular domain. The myths of Business Process Outsourcing described above are there because still, many companies are in doubt whether they will outsource their business functions or not.