Introduction
Being one of the most difficult aspects to navigate, customer support is considered the most important point that a business needs to focus on. When a customer contacts tech support, it is a sign that something is not handled by frontline customer support. Whether you are in an e-commerce business or software, competition is thriving everywhere in the market. Superior technical support is the key to retain the customers as well as improve the profitability of the business. Technical support is a part of customer support where the company has to go beyond the basic practices of customer support to satisfy the customers while increasing brand loyalty towards them.
Best Practices for Technical Support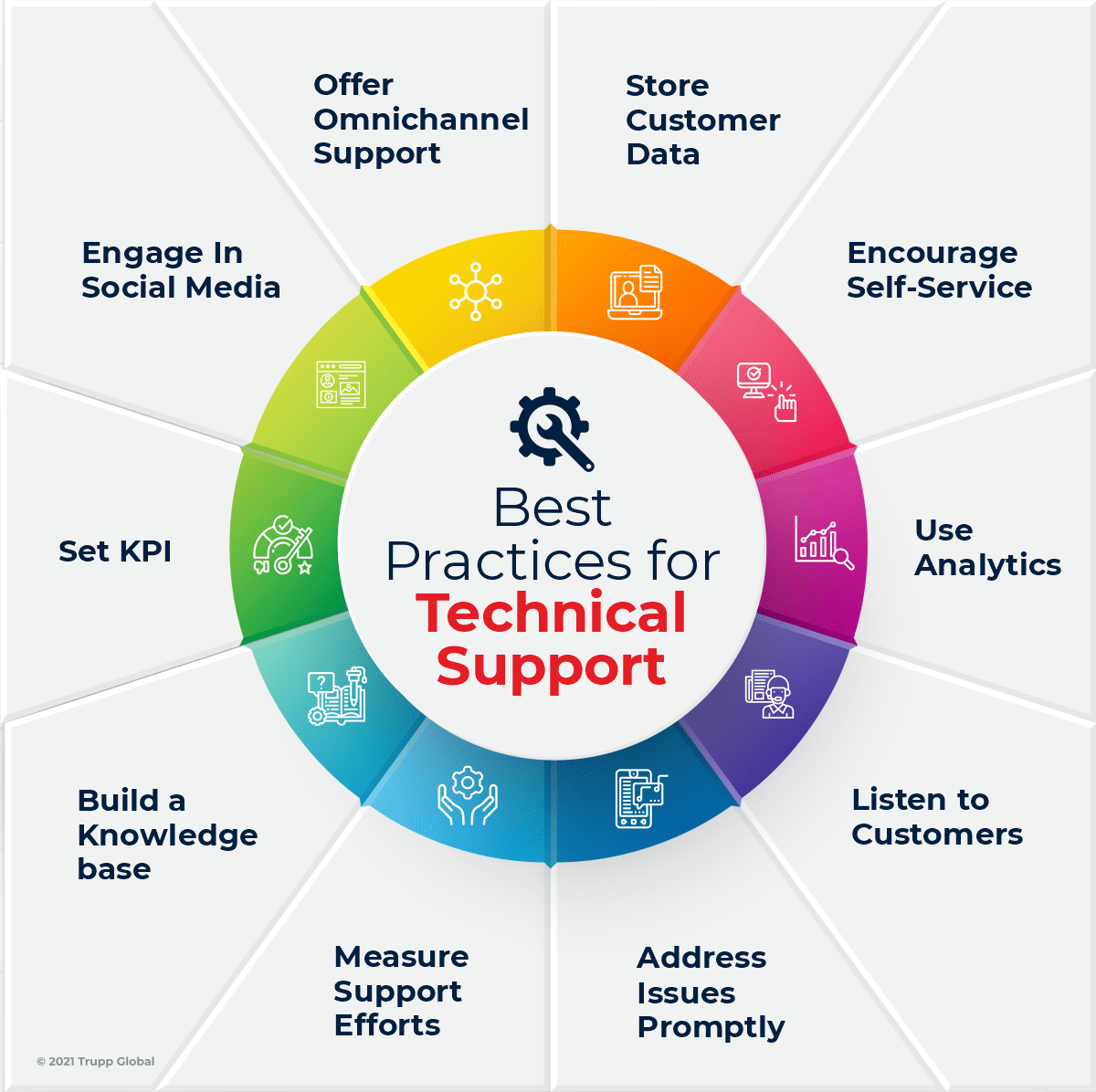 Nowadays, businesses are focusing on technical support that results in several benefits such as brand building, customer retention, maintaining customer trust, customer acquisition, and many more. In this blog, we are mentioning a few best practices of technical support that brands can implement as part of their customer support strategy for improving the brand value in the market.
1. Offer Omnichannel Support
Do not limit the technical support of your company to just voice calls and email. Tech support can be provided by multiple customer communication channels such as social media channels, live chat, video calls, etc. Make it easy for your customers to reach your brand by offering omnichannel means of communication. Reply to every customer comment across all the channels so that you can increase the rate of customer satisfaction in the long run by retaining customers.
2. Store Customer Data
Storing customer data helps you in serving the customers in a better way than ever. Nowadays, the customer support software applications used by companies allow you to store data against a customer's identity that you can use whenever you are replying to customer queries. Having all the data handy, reps can easily solve the issues quickly and can offer relevant solutions that will close the case in a shorter interval of time. Providing technical support using customer data is a smarter way than solving the problem from scratch.
3. Encourage Self-Service
Self-service not only helps the customers to solve basic problems on their own but also reduces the workload of the customer care executives. Posting troubleshooting articles on the website and publishing general FAQs related to product usage, shipment, etc. reduce the burden of bulk call volume. Discussion forums, video tutorials, etc. can be used as a basic technical support guide to help self-sufficient customers. This will eventually help in increasing website traffic in the long run.
4. Listen to Customers
Active listening is a vital aspect of offering excellent customer service. Most of the customer care executives have less patience to hear customers' issues. Hence, they are not able to provide the right solutions sometimes. Technical support executives can't afford to not listen to the problems as the solutions are dependent on the nature of the problems faced by the customers. Before jumping to a conclusion, technical support executives must practice actively listening to customer calls.
5. Address Issues Promptly
Addressing customer concerns promptly can lead to a higher quality of customer satisfaction. If your business is providing IT support through its omnichannel service, then the company needs to address the problem faster. Live chat can be used for solving simpler issues. However, complex customer issues can be solved through voice calls or email, or video chat services. In every customer communication channel, live technical support agents must be present so that they can answer customers' calls promptly.
6. Measure Support Efforts
Facing the customers' issues in real-time will lead the technical support executives to make real-time decisions on the spot. Empowering the executives to take decisions independently and equip the team with the right tools is very important for efficient customer service. If required, adequate training should be provided to increase the efficiency of the technical support agents. Measuring the efforts provided by each live agent will help in improving their work efficiency a lot while increasing in emphasizing accountability towards each case.
7. Build a Knowledgebase
Building a knowledge base is one of the crucial aspects of providing higher quality technical support to the customers. Having a handy knowledge base of the most reported issues and their solutions, a technical support executive can easily help the customer in solving their issues quickly. However, it is very important to update the knowledge base as the technical aspect changes timely and outdated issues should be removed while the new ones must be added.
Today's brands should not only have their presence on social media but also, have to constantly engage with their customers on the social media channel. Resolving queries on a voice call and email is not sufficient. Emphasize the customer complaints and consumer feedback that comes from social media channels. Ensure a dedicated resource that handles technical support that comes from the brand's social media handles. Always remember that every customer is welcome and ignoring a customer can lead to decreased brand reputation.
9. Set KPI
Setting KPI is a vital factor in measuring the success of the technical support team. Metrics and parameters should be defined in judging the performance of the technical support team and the individual reps. To serve the customers in a better way, setting KPI is important for enhancing the technical support executive's skills so that they can update their knowledge and offer better customer service. Since technical support involves technological aspects, hence it is very important to improve the knowledge base.
10. Use Analytics
Analytics and reports are provided to the technical support team by the CRM system or helpdesk, website, and social media platforms are very important in the field of analytics. The conclusion and the summary obtained from these reports are crucial for the developmental work for the technical support executives. For instance, analytics is used for checking the customer engagement of the website. Failing to log in constantly will lead to sending a mail or text message regarding password change.
Final Take
The technical support offered by a company can never be perfect. However, it can be improved promptly. New problems will arise every time and the technical support team has to find ways in troubleshooting the ways in a faster way possible and provide newer solutions to the customers. However, if you follow the above-mentioned best practices for technical support, then you can ensure a seamless customer service experience. Achieve the best quality technical support while implementing the best technical support guidelines and enjoy a higher level of customer retention and improved brand reputation as the by-product.