Introduction
Excellent customer service is considered the main pillar of success for a company. As per Gartner's report, 85% of the customer-to-brand relationships will be handled by the customer support executives by 2021. Customers are the king and they are willing to pay more for great customer service. It can be achieved only when the brands remain aligned with the latest customer service trends for 2021. Companies that don't focus on providing excellent customer support tend to risk losing their brand reputation and customer base.
According to Statista, 56% of the customers will have a higher expectation in terms of customer service than last year. Brands focusing on investment in customer service channels will no longer suffice. Rather than that, brands need to emphasize out-of-the-box and innovative ways of delivering customer service beyond users' expectations.
How Companies can implement the Customer Service Trends in their business functions?
Brands will no longer be profitable simply by keeping them reactive. Serving quality customer support exceeding the customer's expectations is the only key to gain a competitive advantage in the market. 2021 will witness innovation in terms of customer service tools than innovation in product development and other core business functions.
To become proactive, brands must utilize the emerging customer service trends in their process of serving customers. Companies are focusing on researching new ways of delivering quality customer support so that they can surpass the competitors in the market. Below are the few customer service trends that brands are relying nowadays upon, but are not limited to:
Cybersecurity for data security
Augmented Reality
Data Analytics especially the Predictive Analytics
Omnichannel Customer Support
Round the Clock Customer Support
Brands are indeed succeeding like leaps and bounds by leveraging the above-mentioned customer support trends 2021. Among these trends, omnichannel being the most popular trend among the companies as they can deliver a faster response to the customers using every touchpoint.
10 Futuristic Customer Service Trends for 2021
Following are the latest customer service trends that companies can focus on to get improved profitability and increased brand reputation. Brands can make a note from the following trends for figuring out how the customers have evolved and embraced the trends in the customer serving process in the best way ever possible.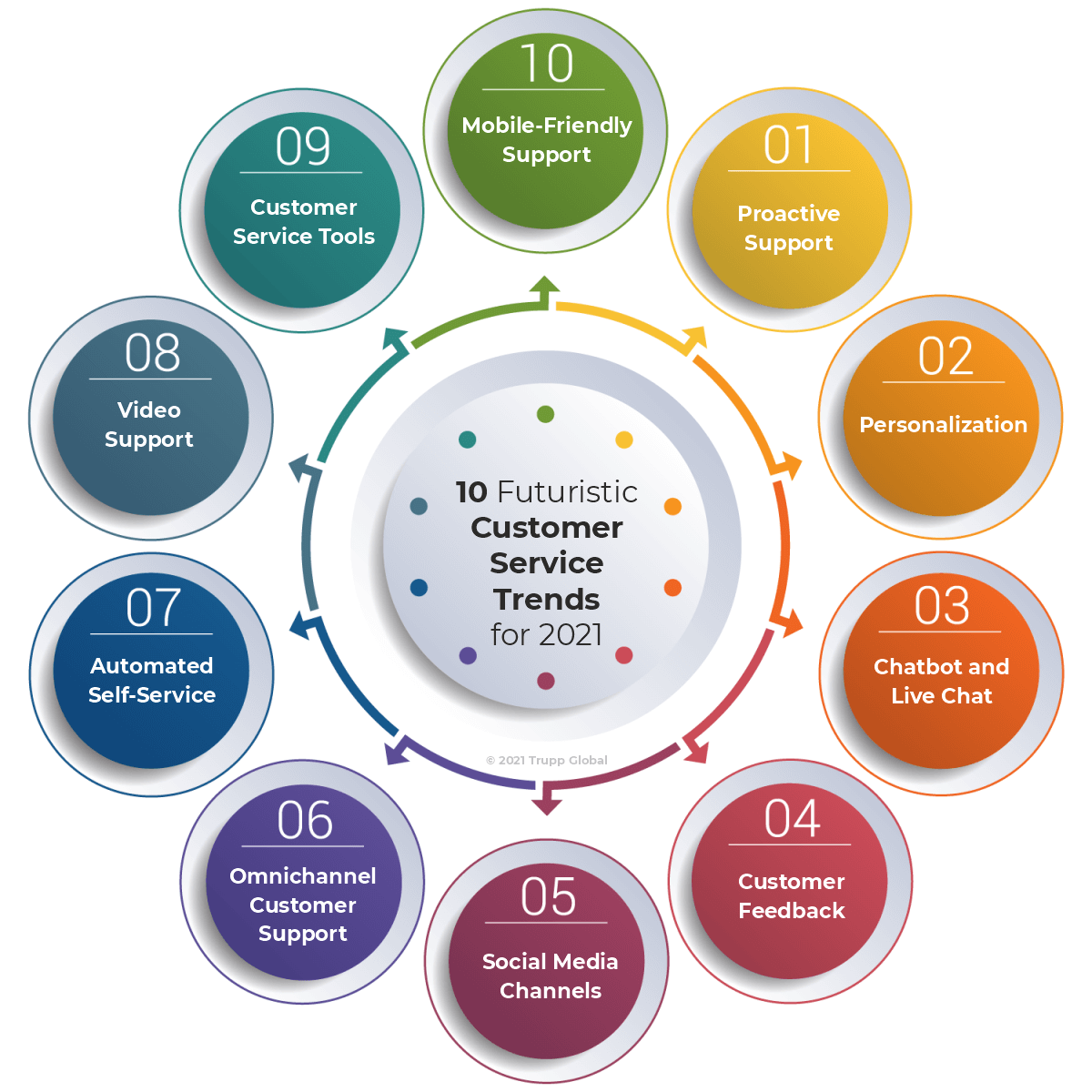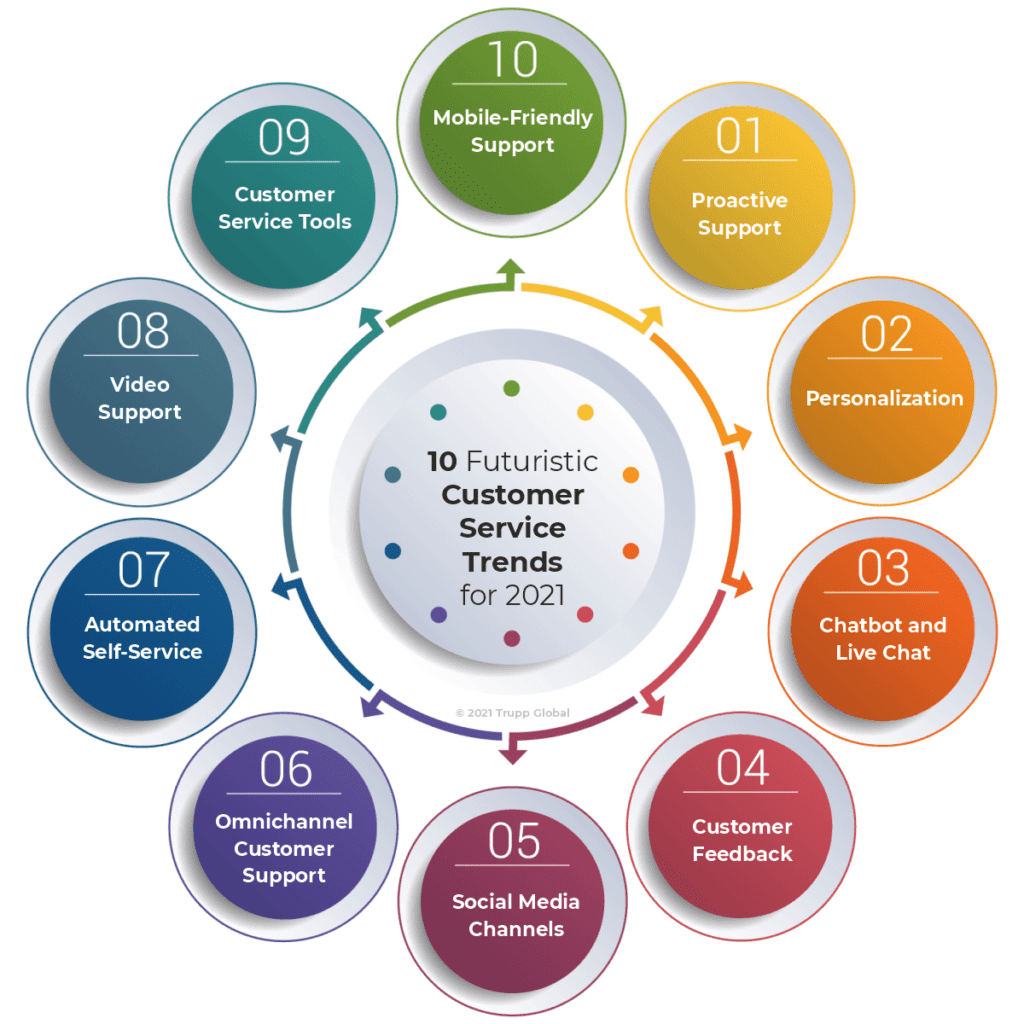 1. Proactive Support
Till now the default customer support strategy adopted by most companies is reactive customer service. The process is simple i.e., resolving customer queries whenever they appear. But in this age of digitalization, is this enough? Nowadays, users expect the brands to read their minds literally regarding the inside-out challenges. As a result, a business must shift to proactive customer support for resolving the problems before they come to the users. Frost and Sullivan stated that 87% of the customers have a positive thought about the brand that makes an effort of follow-up with them.
2. Personalization
The concept of personalization has become the buzzword in terms of every aspect of the business so that the marketing professionals cannot get enough of it in delivering quality customer service. Nothing will make customers happy when a brand offers tailor-made solutions at every touchpoint which deepens the connection of the brand with its users by winning their brand loyalty. 2021 will witness the importance of data from user interactions. Customers will be more cautious of the data and brands' needs to capture data while providing satisfactory customer feedback.
3. Chatbots and Live Chat
Live chat support when accompanied by AI-powered chatbots is considered as the powerful duo that transforms the customer service standards while delivering excellent customer support. Chatbots are a great example of self-service customer support that not only lowers the ticket volumes but also provides a basic query resolution to the customers. Live chat reduces the resolution time of customer queries and provides proactive customer support.
4. Customer Feedback
Customer feedback, as one of the most popular customer service trends, can be measured by key metrics like average handle time, first contact resolution, etc. However, not all users are interested in sharing feedback. The maximum rate received from in-person surveys is 53% followed by email surveys i.e., 50%. As per the study by Local SEO Guide, user reviews are used by Google to rank the local businesses.
According to the report of the State of Global Customer Service, 59% of the customers prefer those brands that respond to user complaints on social media. 18% of the customers seek immediate responses to their queries posted on social media. Brands can leverage social media while responding to user's queries by offering useful resources. Having a strong social media presence while conducting contests, sharing customer feedback, thanking users for their brand loyalty can make a brand more successful than ever.
6. Omnichannel Customer Support
The most common questions that every brand tries to find the answer to are "What do their customers want?" and "How do they want?" Omnichannel customer support connects all the communication channels while delivering integrated and consistent real-time customer service. Companies nowadays invest in creating omnichannel support across all touchpoints. It will empower the customer service teams in curating customer journeys rather than focusing on individual touchpoints. For better collaboration and resolution, the entire customer interaction is accessible to all the customer care agents in real-time.
7. Automated Self-Service
Self-Service is considered one of the latest customer service trends. However, users cannot resolve their queries on their own. Hence, self-help forums and modules, how-to-videos, FAQs, etc. can take a brand one step ahead of the competitors. Modern customers want to solve their issues with the least interactions possible quickly. According to the report of Statista, 88% of the customers expect online self-service portals from brands. Best practices of self-service modules include taking regular feedback from users and updating the support content, self-help modules must contain search keyword, ensuring quick links of FAQs on the homepage, and so on,
8. Video Support
No wonder video support is considered the latest customer service trend of this year. Let's take the case of YouTube. Videos get billions of hits on YouTube, thus increasing the popularity of this social media channel. Strategies that brands can incorporate in their websites are ensuring instructional videos related to product demonstration, creating onboarding videos, and uploading customer reviews videos. Accenture Strategies states that 44% of the users use digital assistants and 86% of them are happy with the service provided by the brands.
9. Customer Service Tools
Customer service tools can change the game of delivering quality customer service for any brand. The right combination of customer service tools will fuel the company in achieving its goals towards brand loyalty and customer acquisition. The tools help in capturing every customer interaction thus helps in serving users within a shorter Turnaround Time (TAT) while maintaining the quality. Considering the popularity of customer service in social media, companies leverage tools like Buffer, Hootsuite, etc., by serving their users in the best possible way.
10. Mobile-Friendly Support
Mobile has become the digital hub that acts as the bridge between the digital and the physical world. Mobile is influencing the digital business and transforming the entire operation of the brands. Whenever a brand creates a mobile-friendly website, customer loyalty and customer relationship gradually increase as users simply can reach the brand from their mobile.
Wrapping Up
In all sectors of business, customer service is always highly evolving which is responsive to industry and technology disruptions. Embracing innovation and disruption is the only way of staying ahead of the competitors while walking towards digital transformation. For every brand, customers across the globe have become more detrimental. Hence, fostering organizational culture while emphasizing the customer's latent needs is the key to the success of gaining customer's trust. Adapt the customer service trends and improve brand reputation and customer loyalty simultaneously.