Introduction
Customer support plays a crucial role in sustaining and growing businesses irrespective of any sector. There goes a proverb – "Customer is the king". Hence, customers are the lifeline of the businesses and it is the responsibility of the companies to serve every customer by providing unique customer service. Businesses have to make sure that their customer service needs to be at par. From customer loyalty, improved brand reputation to competitive advantage in the market, customer service is an integral part of expanding business. Here comes the concept of customer support outsourcing that is known for supercharging revenue growth of the companies.
What Customer Support Functions need to be outsourced?
Create an effortless customer service experience by outsourcing customer support functions that will lead to optimal benefits including boosting revenue growth by increasing sales and profitability. A single failure in customer support can bring drastic changes to the brand's reputation. Then, product development and other business functions' growth will not help in boosting revenue for the company. Below is the list of business functions that companies can outsource to reputed BPO companies.
Inbound voice support refers to the traditional approach of inbound call center services. Customers usually call the company helpline number, especially for any query or product and shipping-related issues. A customer care executive attends the call and resolves the issue of the customer within a stipulated time.
Outbound voice support refers to the outgoing calls from companies' end for customer retention and increased customer loyalty. The call center executive takes the initiative to call the customers either for the telephonic survey, welcome calls, feedback calls, and the list goes on.
Live chat support is the type of customer service that is mostly done by automation. The company website should integrate live chat so that customers can reach them by using the chat services. However, customer care executives have to engage themselves whenever the problems are not solved by the AI chatbot.
Email support refers to the customer support services where the customers are reached through emails. Many companies have a support email where customers can reach with their queries and they are solved through email support services.
Technical support refers to the range of support services that aims in providing solutions to the customers either through an app or website. Technical support includes omnichannel customer service that has 5 different levels like Pre-support, Self-service, 1st line of support, 2nd Line of support, and 3rd Line of support.
Role of Outsourcing Customer Service in Your Company's Revenue Growth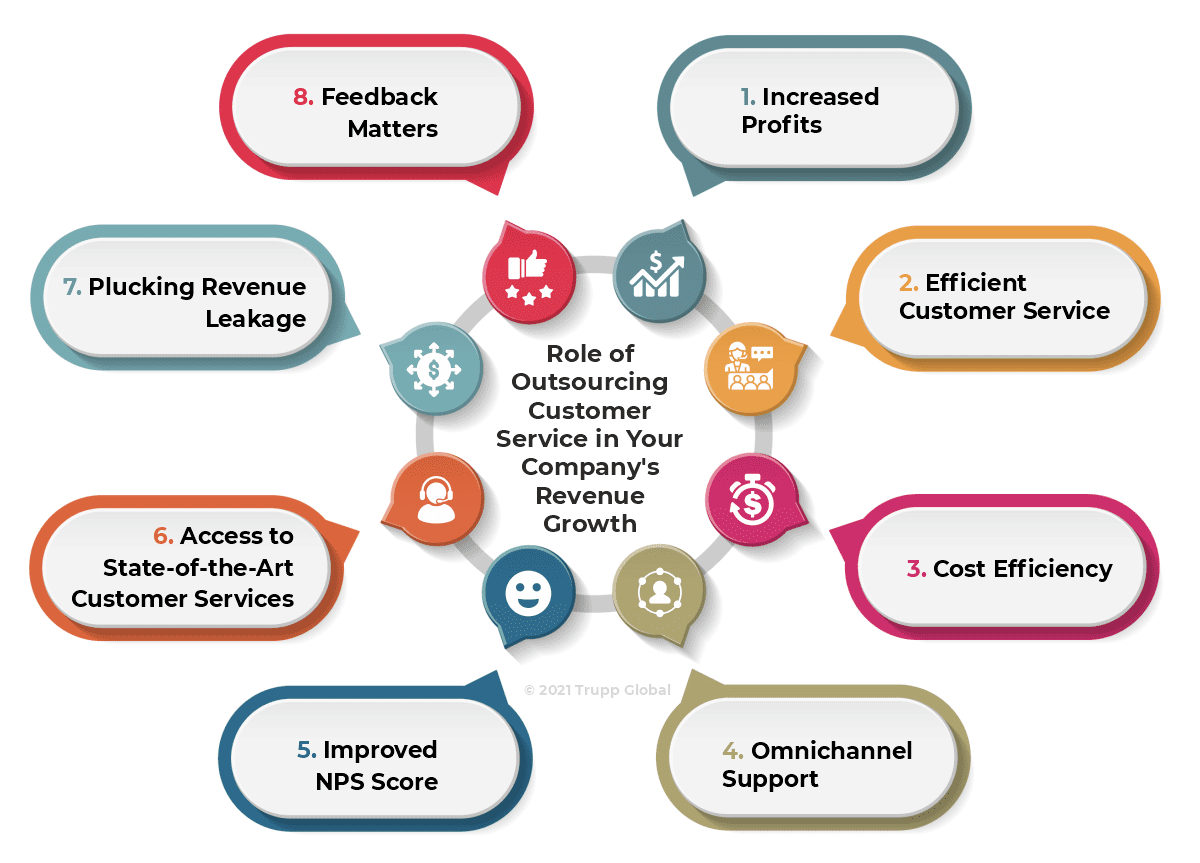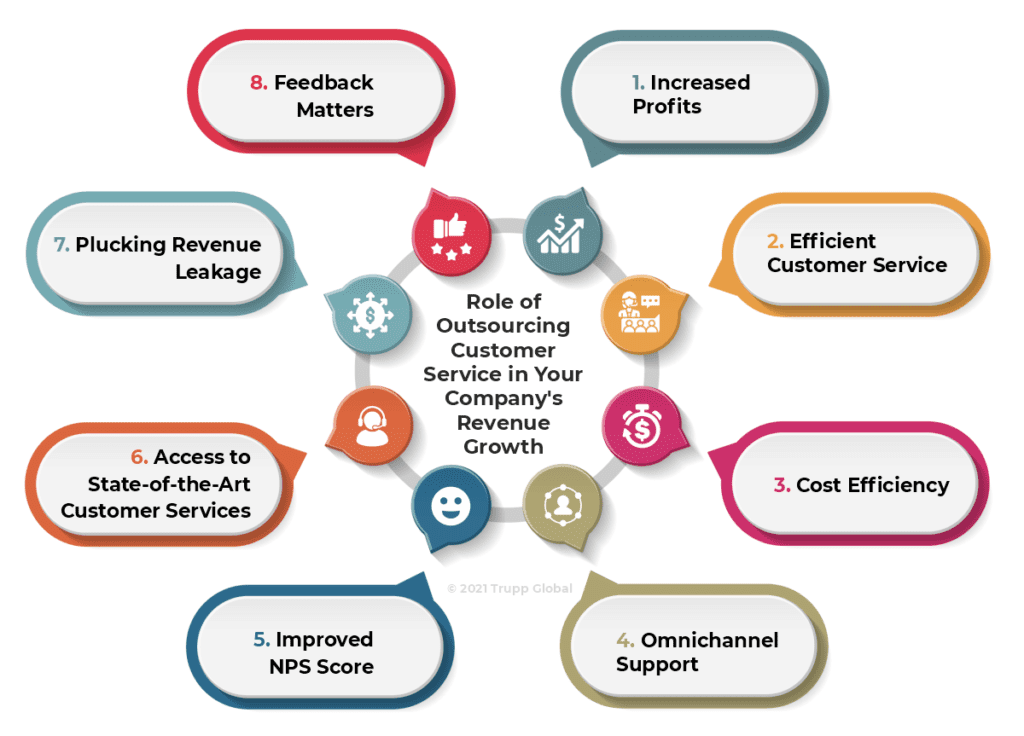 Maximum business and revenue growth depend on product development and effortless customer care services. Most successful companies of the world choose to outsource their customer support services not only because it is time-consuming but also because it incurs huge investment. Below are the benefits of outsourcing that help companies in supercharging revenue growth.
Charges for outsourcing are pretty affordable compared to maintaining an in-house team of customer service as it includes hidden charges like hiring, training, infrastructure cost, daily operational cost, etc. Outsourcing helps the companies in focusing more on the core business operations that lead to increased profits, competitive advantage, and constant revenue growth in the market.
Efficient Customer Service
Companies often tend to fail in providing excellent customer service from their in-house team as other core business functions need more focus. The focus doesn't always remain the same which leads to disrupted customer service. Whereas companies that have outsourced their customer service are proven to provide effortless customer service thus increasing customer retention and customer loyalty.
Cost efficiency is one of the main reasons for outsourcing. Compared to maintaining an in-house team, outsourcing always incurs less cost than the previous. Moreover, outsourcing customer service is known for improved profit and competitive advantage that leads to the total growth of the company.
Maintaining omnichannel support for a company can sound challenging as it incurs both time and capital investment. It requires a lot of infrastructure and skilled professionals to use the communication channel effectively. Hence, outsourcing customer support is the best option where the BPO companies have experienced staff who are known for serving customers using omnichannel support.
Research says that more than 67% of the Fortune 500 companies rely upon Net Promoter Score (NPS) for representing the customer relationship ranking. NPS score is closely associated with revenue growth and excellent customer service. Having a good NPS means effortless customer service that will help in driving improved brand loyalty and customer relationship. It can be achieved only when companies will outsource their customer support functions.
Access to State-of-the-Art Customer Services
BPO companies are known for using state-of-the-art services like voice support, live chat, email, SMS, social media, video calling, VoIP, etc. features to connect with the customers. Using these mediums customers can reach the companies and their problems get resolved in real-time. However, companies also get access to these media of communication, and thus customers can connect with the brand easily.
Revenue leakage is one of the important aspects that can lead a company towards loss. An inexperienced staff of a company leads to faulty invoices full of errors. Sometimes the problem can arise while accessing the authenticity of the multiple bills and invoices against a single order. On the other hand, outsourcing customer service and accounts payable to a reputed third-party agency ensure accurate payment and enhanced customer service. Moreover, the BPO companies leverage licensed software and special tools that help in plucking revenue leakage while boosting profitability.
Seeking feedback is one of the essential steps of fixing the systems which are not working. Ask customers related to their purchases or the feedback for the product and listen to their words and reshape the business accordingly. Outsourcing the customer service will provide a dedicated team that will be focused on taking feedback by telephonic survey or email. From feedback, a company makes changes regarding their product or any other business process accordingly.
Final Thoughts
However, finding ways of serving customers is not an easy task as it includes maintaining an in-house team of customer support. Not only does it require substantial investment but also it is time-consuming. Handling customers and resolving their queries needs time and patience. It can be challenging sometimes as other core business functions are very crucial for the growth of the business and revenue generation. Hence, delivering the best customer service can be gained when it is outsourced to a reputed BPO company.