Introduction
In the era of digitalization and redistributing manpower, businesses extend multilingual proficiency and additional skills while addressing the concerns in an effective way than before. The need for inbound call center outsourcing has been gradually increased compared to the last decade because not only it maximizes the ease of business operations but also enhances the rate of customer satisfaction. The companies that outsource their office functions not only enjoy cost-efficiency but also help in business growth in a multitude of facets.
Inbound Call Center Outsourcing in Business Growth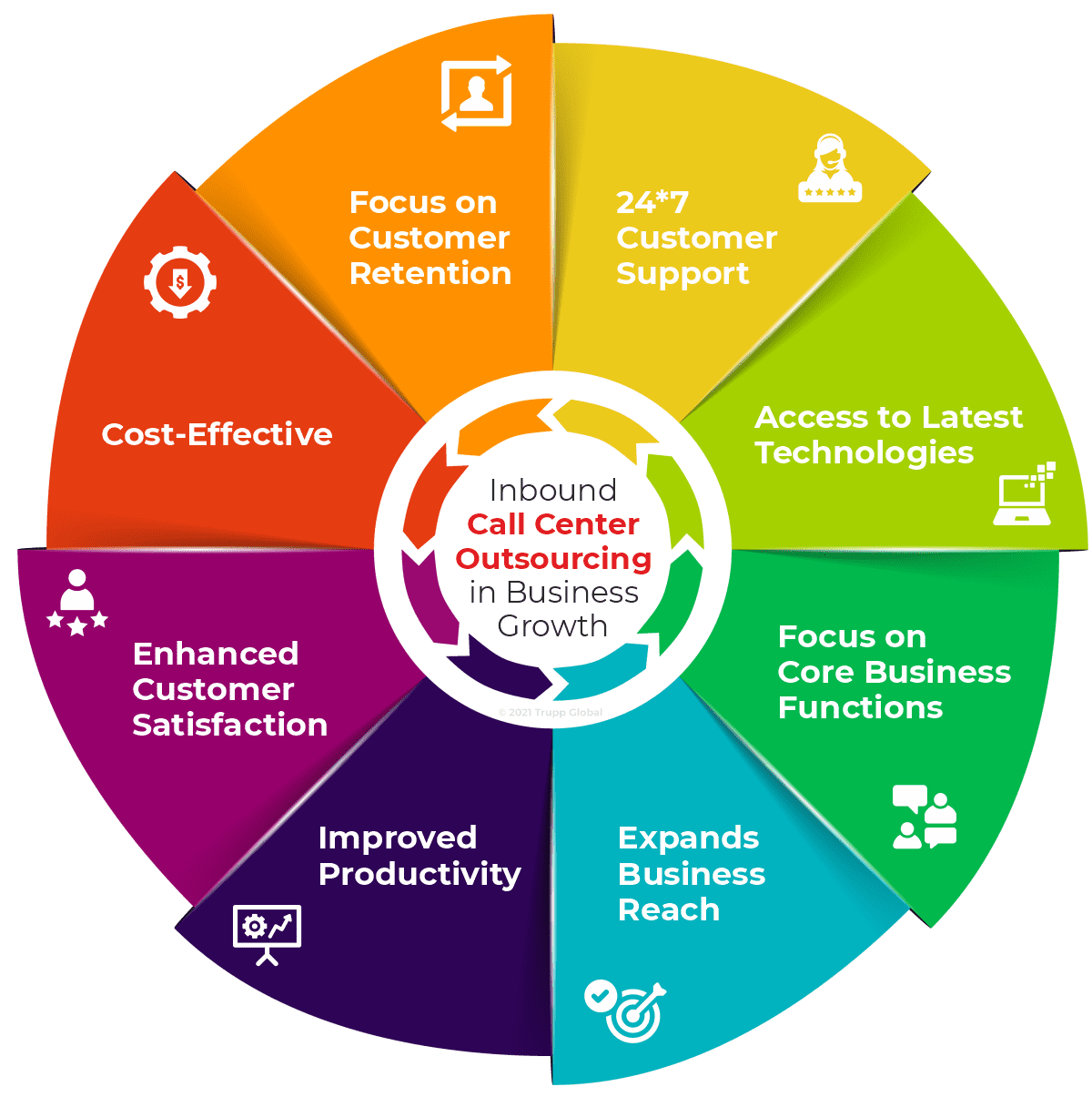 There are multiple benefits that a business can reap during inbound call center outsourcing. They can attribute the rate of business growth and success only when a reliable outsourcing partner comes in to make the business operations run smoothly.
1. Cost-Effective
Cost-efficiency is one of the significant reasons that businesses get while doing inbound call center outsourcing to a reputed company. Along with the assurance of high-quality service from an experienced partner, the capital saved from outsourcing might be invested in core business functions. Startups will get the maximum benefit out of it because its limited fund will be allocated optimally in all facets of the business properly. On the other hand, startups can avail the benefits of outsourcing with enhanced customer satisfaction.
2. Focus on Customer Retention
For any business, customer retention is more important than customer acquisition. Building customer trust and customer loyalty for a brand take time. If your current customers are happy with your service, then there are high chances that they will spread a positive brand impression to their friends and family that will finally lead to increased brand reputation and customer acquisition. Thus, inbound call center outsourcing not only helps in customer retention but also helps in improving the brand image in the market.
3. 24*7 Customer Support
One of the most potential benefits of inbound call center outsourcing is round-the-clock customer service. Most businesses face issues regarding customer service which is the cause of retarded business growth. The outsourcing partner reassures you 24*7 customer support that not only increases the customer satisfaction rate but also helps in improving the focus of the business in its marketing and sales campaigns. They will use omnichannel customer support which will help you to create a connection among all the communication channels.
4. Access to Latest Technologies
For any company, especially small and medium businesses, updating the technologies can be challenging due to budget constraints. Updating technology requires investment in employee skill development, buying infrastructure, etc. By inbound call center outsourcing, the company can access the technologies used by the BPO company without paying an extra cost to it. It is indeed a great way in using the technologies effectively while staying ahead of the end-user demands.
5. Focus on Core Business Functions
Inbound call center outsourcing for customer support enables companies to focus on their core business functions. This helps the enterprises in achieving long-term strategic and business goals while the non-core counterpart also functions faster under the guidance of the expert team of the outsourcing agency. Due to limited manpower and budget, startup agencies feel overwhelmed in managing all business activities simultaneously. To beat the competition in the market, small and medium businesses must outsource their non-core business functions for meeting the strategic goals.
6. Expands Business Reach
When a business is thinking of expanding its footprints in the international market, then it is very important to look after the customer's needs and expectations. In this scenario, the need for inbound call center outsourcing is essential not only for customer satisfaction but also you can allocate resources properly in your other core business functions. Multiple aspects need to be considered when a business expands its reach. Focusing on customer satisfaction is one of the crucial aspects, but it is not the end. A company can easily focus on its business activities only when a reliable partner takes care of the non-core business activities.
7. Improved Productivity
If your business lacks in any of the service delivery aspects, the partnership with your inbound call center outsourcing partner may help. It will help your business in hiring trained and experienced professionals that allow repetitive tasks in getting the maximum value from your internal operations. In this way, the business can focus on its customer support activities. However, this work setup will yield higher productivity and work efficiency for the business.
8. Enhanced Customer Satisfaction
The choice of trusting your inbound call center outsourcing partner will leave your customers satisfied with a positive brand impression. An outsourcing partner improves your customer response time within a very short time and will certainly decrease the rate of cart abandonment. They have the power to manage high volume incoming calls that pave the way for exceeding customer expectations. With this enhanced customer satisfaction, you can take your business growth to the next level in terms of profitability and customer retention.
Final Thoughts
The list of benefits of inbound call center outsourcing varies from one company to another due to the difference in the nature and scope of business. The success of a company depends on many factors such as higher customer satisfaction, lower operation costs, a superb sales record, enhanced profitability, etc. Now you can maximize your customer experiences by offering an excellent customer journey through your products and service with the help of a reputed inbound call center outsourcing company.