Introduction
Customers nowadays not only expect a seamless customer experience from a brand but only they want personalized solutions throughout the whole customer journey. Brands should now focus more on customer's expectations so that they can boost brand reputation in the market through Word of Mouth. As per Forbes, more than 80% of the customers make purchases from a company that provides personalized customer experiences. In this blog, we are going to discuss the steps that can be taken by a brand to provide personalized customer service by meeting customer's demands and preferences.
What does Exactly Personalized Customer Service mean?
Personalized customer service refers to the marketing technique adopted by brands by using an individual approach to solve customer's issues. It is all about customizing the experience to the individual customer's needs while making a smooth and hassle-free customer journey. Thus, customers will feel more connected to the brand and experience greater satisfaction whenever personalized customer service is offered.
For making a business successful you need to understand the impact of offering personalized customer service to your brand. Personalized customer service can help a brand in many ways such as:
Superior Customer Retention
Improved Customer Experience
Better Lead Generation
Higher Conversion Rate
Tips to Provide Personalized Customer Service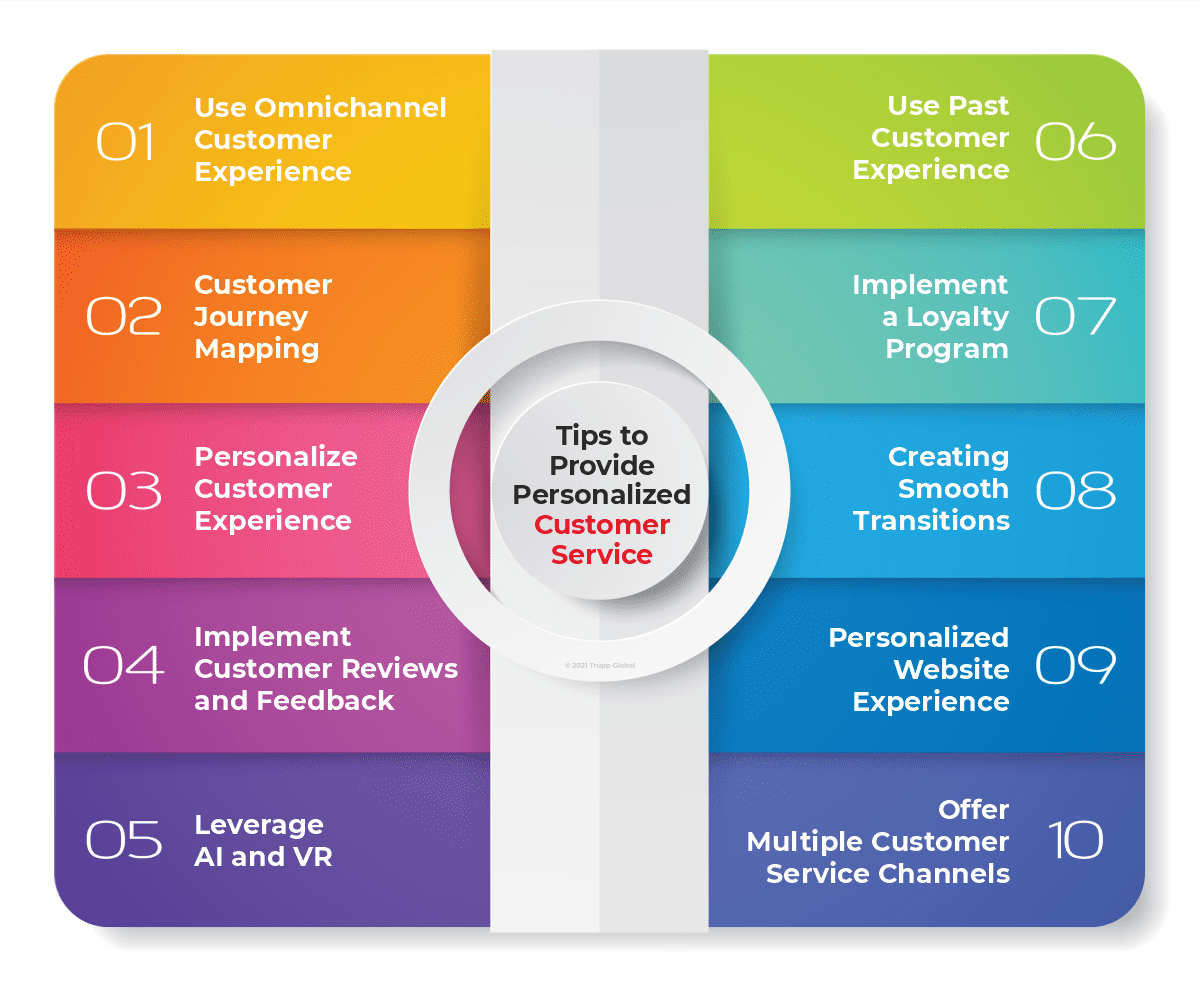 For maintaining a competitive advantage in the market, offering personalized customer service is crucial for brands. This strategy has helped most of the companies in gaining a quantifiable boost to their business outcomes. However, to achieve great results in sales, conversion, and customer retention, a brand must know the ways of delivering personalized customer service. A brand can deliver tailored customers service in many ways such as:
1. Use Omnichannel Customer Experience
When it comes to communicating with the brands, not all customers will prefer the same customer communication channel. While some will prefer live chat or social media, others can prefer to write an email or a few may wish to connect over a call. As a brand, you never know which communication channel your customers will use to reach you. So, to avoid loss of customers implementation of omnichannel customer experience is essential
2. Customer Journey Mapping
To personalize customer journey mapping, you need to know the customer touchpoints at every stage. Touchpoints could be everywhere such as on-site reviews, customer feedback, comments on social media, surveys, etc. Brands should identify the touchpoints and provide customer experience while accessing them at every stage. Mapping every customer journey can improve customer engagement by addressing the customer needs at the individual level.
3. Personalize Customer Experience
Personalizing website content or customer responses are the key ways of call to action to every visitor. Gone are the days where generalized responses or website content attract customers. Almost 92% of marketers use personalized content in any form wherever possible while serving excellent individualized customer experience. Brands should leverage the data they get from live chat to serve customers in a better way or personalize the customer service.
4. Implement Customer Reviews and Feedback
Every customer always wants their preferred brands to listen to them. As per Forbes report, says that 55% of the customers will stop using the products of that company if that brand stops listening to its customers.
Companies must acknowledge customer's feedback and utilize it properly to provide personalized customer service. Always appreciate the customer's feedback and try to implement those in the process of service delivery so that customers can get to know that as a brand you are listening to them.
5. Leverage AI and VR
Nowadays almost 61% of the customers expect their brands to offer AR experiences. Redefine your game of customer engagement to the next level while adopting AI and VR to provide excellent customer support. Chatbots used in live chat are known for providing personalized customer service and responding to the customer's queries within a few seconds.
Implementation of AI and VR in the marketing strategies also helps in creating a memorable customer experience in the long run. With the concepts of augmented reality, now you can replicate your in-store experience and bridge the gap between the customer's expectations for great customer service and their reluctance in visiting the store.
6. Use Past Customer Experience
Using past customer experience is one of the most vital and reliable ways used by most brands for serving their customers in a better way. Brands can easily personalize the methods of customer service with the past customer experience data.
It can be done by using website analytics, conducting customer surveys, tracking the social media messages and comments, opinion polls, live chat details, etc. Knowing the customer interactions by using the above methods will help brands in providing individualized customer service.
7. Implement a Loyalty Program
Loyalty programs are referred to as desserts served to the customers. These programs not only increase customer loyalty but also customers will spread positive Word of Mouth about your brand to their friends and families.
Take a level up by implementing digital loyalty programs that will help you offer more than rewards. Collect customer data with the customer interaction and customer behavior and serve them personalized customer service. For instance, tailored marketing campaigns are based on targeted products that consumers are most interested in or based on their purchasing behavior.
8. Creating Smooth Transitions
Solving a complex customer query can lead the brand to transfer calls between the various departments. However, this may lead to customer dissatisfaction because customers have to wait for a long time. It is the responsibility of the company to make these transactions smooth by letting them know their position in the queue timely.
This will help the customers to know the status of their call and how long it will take to solve the issue. If it is a case of live chat or an email or a message in social media, then you should revert them as soon as possible and offer them a unique customer experience.
9. Personalized Website Experience
Website experience nowadays is one of the most crucial parts that brands are utilizing for offering personalized customer service. With the use of real-time messaging in the website or automated responses by using chatbots, brands can easily solve customer's queries within a shorter interval of time.
However, brands deliver relevant content, service, and product with this hyper-personalization of website experiences for each customer. Investment in live chat software and other technical aspects can be a great start for a brand to fulfill customer needs.
10. Offer Multiple Customer Service Channels
Brands that offer a plethora of communication channels to their customers are known to serve them in a better way. You never know which customers will use which mode of communication to reach you. Hence, offering them multiple options is a great way to provide personalized customer service. By providing multiple customer touchpoints, a brand can allow its customers to personalize their experience.
Final Thoughts
A brand can differentiate itself in the competitive market with its personalized customer service. It is not limited to serving individualized customer support. Moreover, a brand can implement it across all its customer touchpoints for a seamless customer experience. Adding a human touch will surely increase the chance of a personalized customer experience along with augmented reality. However, brands need to align with the most evolving customer preferences thus, creating a unique strategy for serving a personalized customer service. The focus should be on gaining customer trust and loyalty and implementing customer feedback wherever possible.