Introduction
The concept of call center outsourcing has gained immense popularity recently as most of the agencies leverage BPOs. From customer support to omnichannel marketing techniques, the rapid evolution of the IT sector to cybersecurity concerns, maintaining businesses has become more complex than it was 20 years ago. Companies that recognize the need for outsourcing, especially customer support sooner reap the benefits better than the ones who do it later. Have you decided to outsource certain pertaining business functions to call center outsourcing agencies? Below is the complete guide of call center outsourcing that includes definition, categories, pros, cons, and the best practices used in businesses.
What is Call Center Outsourcing?
Call center outsourcing is defined as the strategic business decision taken by an organization to outsource its customer support function to a specialized BPO vendor. The third-party vendor handles all types of customer service problems, such as customer queries, payment failures, and many more.
Call center outsourcing not only saves a lot of capital, time, and resources but also allows companies to concentrate more on the core business activities such as product development, marketing strategies, sales activities, etc. Hence, organizations should find an outsourcing agency that gels with their corporate culture.
Types of Call Center Outsourcing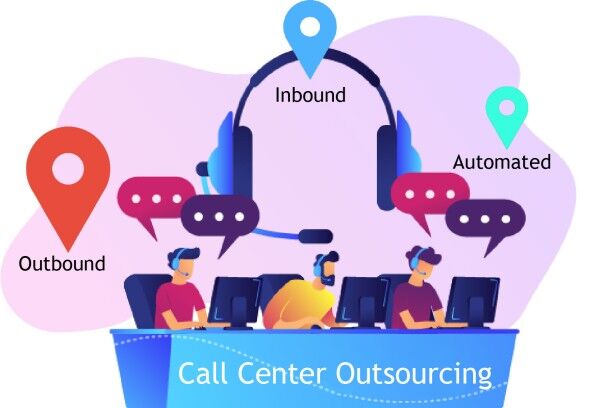 A company should opt for a call center agency while having a clear idea of the services required from the third-party vendor. Eventually, this will help in calculating the cost of outsourcing your call center services and other details. Based on the type of services, every call center company requires different levels of expertise and skills depending on the services offered by them.
However, call center outsourcing is classified into 3 main categories. They are Outbound, Inbound, and Automated Call centers that include an off-shore call center, in-house call center, or even a virtual outsourcing firm where agents work from different locations while answering calls from the cloud.
1. Outbound Call Center
These call centers focus mostly on outgoing calls i.e., the agents of the outsourcing call center firm call the customers of the business or organization. They can be important for sales funnel and lead generation while acquiring brand new customers. The outbound services related to this call center are:
Market Research
TeleSales
Product Recalls
Conducting Customer Surveys
Billing Explanations
Event Registration
Learn More: Top 5 Practices That Make Outbound Voice Support A Success
2. Inbound Call Centers
Inbound call centers are responsible for taking calls initiated by the customer. Organizations typically opt for inbound call centers that provide support and resolving the queries of their clients.
Companies outsource inbound call centers for providing customer support as it can be challenging for them to have the infrastructure and staffing to take care of a high volume of calls from their customers. The inbound services include:
Help Desk Services
Order Processing
Hotlines
Learn More: How To Deliver Effective Inbound Voice Support Services
3. Automated Call Centers
Nowadays, nearly every company relies on automated calls i.e., electronic processes for staying in touch with their customers. It is indeed helpful for firms as they don't have to hire people for attending the calls of their customers. The services that come under automated call centers are:
Online Scheduling
Appointment Reminders
Email Management
SMS Texting
Check-in Reminders
Learn More: Top 10 Benefits of Omnichannel Customer Service
Pros of Call Center Outsourcing
There are several reasons for an organization to consider a call center outsourcing firm for solving their customer support problems. In multiple cases, outsourcing firms allow companies to work effectively while focusing on core business activities without paying less attention to subsidiary work. It can eventually lead the companies to reduce their in-house operational cost and reallocate those funds to core areas like product development, brand development, marketing, and sales, etc.
1. Cost Savings
Call center outsourcing is less expensive than hiring customer service staff and paying them overtime during the busy seasons. Organizations that outsource certain functions witness financial relief in terms of cost-optimization. However, outsourcing agencies can offer various affordable and flexible price points and staffing options that will be much cheaper than hiring a customer support team.
2. Improved Customer Support
Many consumers reach companies' helpline numbers during the off-hours. It is the responsibility of the customer service team of that company to solve the customers' issues. Hence, 24*7 customer support is something that consumers expect. In this scenario, call center services can be the ultimate savior because they have staff working on 24*7 shifts to serve your customers.
3. Growth and Scalability
It is seen that businesses which have outsourced few functions to outsourcing vendors are capable of allocation of resources among the core business activities. Hence, the company's growth and scalability in the market are quite obvious to those who are struggling to hire a customer support team and cannot maintain it properly.
4. Multilingual Customer Service
If you have a customer base who is likely to speak a different language, for example, Spanish or German, then hiring a third-party call center company is the best option to gain the reputation of your foreign customers. The most important aspect is that companies can flourish their business internationally without paying much attention to customer support.
5. Better Quality of Services
Call center outsourcing firms can deliver better customer services than the in-house smaller customer support teams of organizations. On the other hand, the customer support teams of the call centers are more skilled and are experienced enough to provide delighted customer service with their niche expertise while handling complex tasks with ease.
Cons of Call Center Outsourcing
While outsourcing call center services may offer some awesome benefits, before choosing a service provider to understand the cons of outsourcing and address those with the outsourcing agent you are considering.
1. Lack of Product knowledge
Disconnection with the brand or lack of product knowledge is considered as one of the most common drawbacks of offshore call centers. Since they are located in a different country or a continent, it is quite obvious that these firms will not have the knowledge of the company culture and the products of your company. As a result, the company gets poor customer service that leads to losing the customer base.
2. Decreased control over business functions
When one company outsources its business functions to an external outsourcing company, that means you are giving your business responsibilities to them. Sometimes companies find difficulty in monitoring the quality assurance of the work assigned. Lack of proper communication can lead to lesser customer satisfaction that can lead to a loss in business.
While hiring an off-shore call center outsourcing firm, a company needs to check all the costs and the international laws. Overlooking any aspect of costs and law may lead to poor customer service. Hence, re-acquiring customers may incur a lot of time and money that can eventually lead to double investment.
4. Security Concerns
Overseas call center outsourcing firms often are not subjected to background checks. Thus, sharing sensitive and confidential data can be a risk than sharing highly confidential data to local outsourcing agents who have undergone strict background checks. Hence, privacy is the main concern that can lead to huge losses later.
Best Practices for Hiring a Call Center Service Provider
Whether your organization is serving a handful of coffee enthusiasts or thousands of global wireless customers, the basic tenets of customer servicing remain the same. Before outsourcing your customer support function to any outsourcing vendor, you need to consider the following aspects instead of better service. They are:
1. Search for Options
A considerable amount of time needs to be spent searching companies specialized in providing customer service solutions. Few call center agencies specialize in high volume and repetitive conversations with the customers while few focus on in-depth conversations. Always consider language needs and time differences while appointing off-shore call center agencies. Compare the service quality and the price points of the services and choose your vendor accordingly.
2. Expertise
The foremost important aspect that you need to check before hiring a call center outsourcing company is to check their expertise level. Has the call center company worked in the industry that your company belongs to? Are they familiar with the concerns of the customers and the regulations of the industry? If the company doesn't fulfill these requirements, you should go for a firm that has domain knowledge before you incur a loss in terms of capital and poor customer support.
3. Quality Control
Quality checks are crucial for any outsourcing firm so that they can deliver better customer service to their clients. Always check the quality control measures used by the outsourcing agency. It can be checked while listening to the recordings of the calls and the reports of exceptional customer satisfaction shared by the call center outsourcing agency.
4. Security Measures
It is crucial to have strict background checks of the call center outsourcing firm, to avoid the risks of a data breach of your customer's personal information. It can complicate the business as it leads to the loss of customers. Before choosing an outsourcing partner, it is important to understand their security protocols and their way of using data provided by you. For preventing data breaches do not forget to ask about the person who manages the network and the persons who have access to it.
Wrapping Up
Outstanding customer service is always considered the hallmark of a good call center outsourcing company. It can help in maintaining a high standard in the field of customer service without undertaking the investments allocated for other core in-house business functions. Have you outsourced your customer support to an outsourcing agency? Share your experience with us.