Introduction
The e-commerce product catalog management has paramount value as it possesses every minute detail of your products and inventory. It has updated product information that includes product specifications, prices, marketing copy, digital assets, etc. This allows your website visitors to get a thorough product knowledge and make them accessible that helps your company stand out from the competition. Thus, the importance of product catalog management for your business increases. Having a well-maintained catalog will make the merchants invest in your business. Catalog management is proven to be a smart way of facilitating the workflow as it is an easy solution in simplifying the complexities of business operations.
Importance of E-commerce Product Catalog Management
Nowadays both B2B and B2C businesses are going online. Hence, a well-managed e-commerce product catalog management is of utmost essential for meeting customer behaviors, product availability while ensuring customers can easily access your products online.
E-commerce product catalogs play a vital role to increase the sales quotient by developing your business model. If you have an online business, then product catalog management is an indispensable aspect. With an organized product catalog, your business can reach a huge target audience thus standing out of the competition.
Challenges for E-commerce Product Catalog Management
The idea for the inclusion of an e-commerce product catalog management might seem easy. However, sometimes it can be overwhelming due to multiple challenges which are mentioned below.
1. Stakeholder Management
The involvement of stakeholders is important for thriving a business. Sometimes you can face issues in updating and managing the product catalog for meeting the demands of the stakeholders and vendors. It can be time-consuming and complex. For instance, if the measurement units differ between your systems and suppliers, then it leads to frequent manual updates.
2. Right Catalog Management Tool
Always ensure the implementation of the right solution for managing the issues for catalog management purposes. To a certain extent, it can create a challenge since the process of internal business may vary across the business model.
3. Catalog Scalability
As your business operations spread their foot in various places, so does your e-commerce product catalog. During business growth, companies need to ensure consistency within the catalog structure. Due to the lack of consistency, problems can arrive in the whole process of managing the product catalog.
4. Readability
It is very important to keep your website updated by mentioning product details in a precise, accurate, and clear way. This process involves pricing, specifications, well-categorized products, and other product details. Lower readability can decrease the customer base in no time.
5. Growth of Business and Catalog
Your business growth is directly proportional to the growth of e-commerce product catalog management. Always make sure that the product catalog of your business must be expanded as per your company's growth. Any inconsistency in your catalog structure such as improper product assortment can lead to unexpected challenges during the catalog expansion.
E-commerce Product Catalog Management Best Practices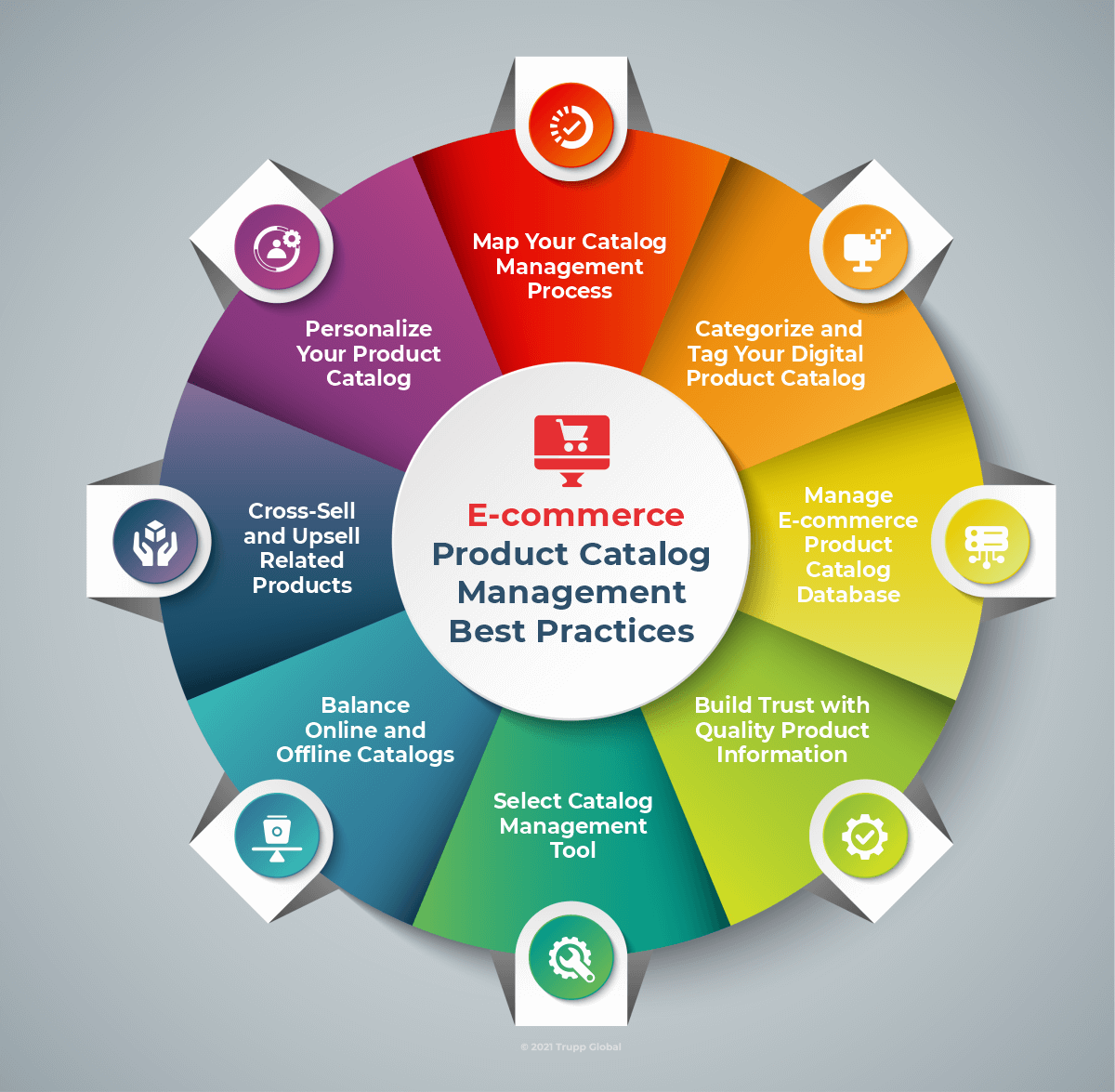 To overcome the above-mentioned challenges in your business growth, we have put together 8 best practices for managing your e-commerce product catalog.
1. Map Your Catalog Management Process
Due to the involvement of multiple stakeholders, sometimes e-commerce product catalog management may face multiple challenges that can be overcome by mapping the catalog management process. The catalog mapping process provides a clear understanding of:
Who is affected by the changes in the catalog?
When are they affected during the process?
Which portion of the catalog management process has stakeholder involvement?
A clear map of the catalog management process will help you in understanding the required steps you need to take in the whole process. With this understanding, customization of the catalog management process can be catered to the specific stakeholder concerns by optimizing them in the long run.
2. Categorize and Tag Your Digital Product Catalog
Help your website visitors with easy browsing through the product catalog while offering them multiple options of filter, sort, refine the product information. This can be done by categorizing and tagging the digital product catalog based on the thinking of the customers. You can categorize your product catalog while ensuring consistency in the product tags, ensuring consistency in measurement units, and avoiding limiting products in the same sort of attributes.
3. Manage E-commerce Product Catalog Database
Since e-commerce product catalog management is a kind of information management, hence maintaining a database is a very important part of optimizing the catalog. Avoid clutter in the database by following the below-mentioned best practices.
Avoiding Multiple Database
Multiple databases will create more clutter in your catalog management process. Always ensure to have a single product catalog database for managing all the operations.
The scalability of your business is directly related to the scalability of your product catalog database. If your business is growing, then you have to make sure that your database should also be scalable enough to create a new entry and make all relevant changes.
Creating Product Catalog Hierarchy
Restrict the stakeholders and vendors to make unnecessary changes in the product catalog database by assigning permission and roles to professionals. It creates a perfect authorization flow which strengthens data security.
4. Build Trust with Quality Product Information
The main aim of an e-commerce business should be maintaining customer relations thus improving the digital product catalog. Customers must feel comfortable while shopping on your website. The major aspects of achieving great e-commerce product catalog management include adding robust information in your product catalog, keeping information up to date, and illustrating the products in high-quality visuals.
5. Select Catalog Management Tool
Depending on the business needs, a catalog management tool can be selected while considering few things like business size, existing tech stack, nature of the product catalog, availability of resources, and your plans in expanding the business as well as a product catalog. No matter what tool you select, it is advisable to keep a single source of truth for avoiding duplicating data related to products. Digital product catalog can be managed through a standalone e-commerce platform, Product Information System (PIM), spreadsheet software like Microsoft Excel, ERP integrated e-commerce, and so on.
6. Balance Online and Offline Catalogs
Using both online and offline product catalogs helps in demonstrating product details on the website. However, you need to know how these two catalogs complement each other while providing a rich shopping experience to your customers. For instance, the offline product catalog can act as a comprehensive product overview that helps customers in fair understanding thus making quicker decisions. On the other hand, an online product catalog serves as an up-to-date product information hub where customers can make comparisons between similar products.
An easy way to increase the average order value is to suggest a related product whenever a customer clicks on a product. You can tempt your buyer in suggesting alternative or even better-quality products in the recommendations or related product section so that they can find the exact product they are looking for. Hence, cross-sell and upsell of the related products can be done easily in your digital product catalog.
8. Personalize Your Product Catalog
Personalization of a digital product catalog is more likely used by B2B e-commerce companies where they have product prices that can differ per ordering situation and customer types. It is recommended to pay extra attention to your product catalog whether the web store can control your product pricing being displayed on your website.
If your website is made to cater to different contents to varied customer segments, then you have to check whether you have tailor-made catalogs or not. With a tailored catalog option, your e-commerce company will be able to serve relevant content to the customers.
Final Thoughts
E-commerce product catalog management is essential for all online companies but sometimes it can be overwhelming because of its multiple challenges that can arise due to the requirements of the vendors, stakeholders, and customers. Using product catalogs is an efficient way to stay ahead of the competition as you are displaying accurate information regarding your products. It is an excellent way to attract more customers to your web store as you will have a good hold over the seller and the customer needs. By implementing the above 8 best practices for managing an e-commerce product catalog, you can successfully run your e-commerce business while serving your customers with relevant information they are looking for.