Introduction
The term "back office" was coined when businesses outlined office functions. The front office section includes resources that are involved in the core business activities. While the back-office section essentially serves as the underlying support function by carrying out tasks that are not directly related to the organizations' core business but are crucial enough to run everything smoothly. Here comes the concept of "Back Office Outsourcing" where companies are looking for solutions that will ensure uninterrupted efficient workflow of their back-office functions.
What is Back Office Outsourcing?
Back office outsourcing is defined as the process where the back-office functions of an organization are outsourced to a third-party vendor that is specialized in handling all BPO activities. It is deemed to be crucial as no organization wants its business operations to be jeopardized.
Outsourcing back-office operations is a popular trend nowadays amongst start-ups and also established businesses as it enables a greater competitive advantage in the market. Plenty of companies overlook the inefficiencies of the back office because they feel that administrative work seems a lot to handle. As companies upscale, it can be overwhelming that may hamper the core tasks.
Types of Back Office Outsourcing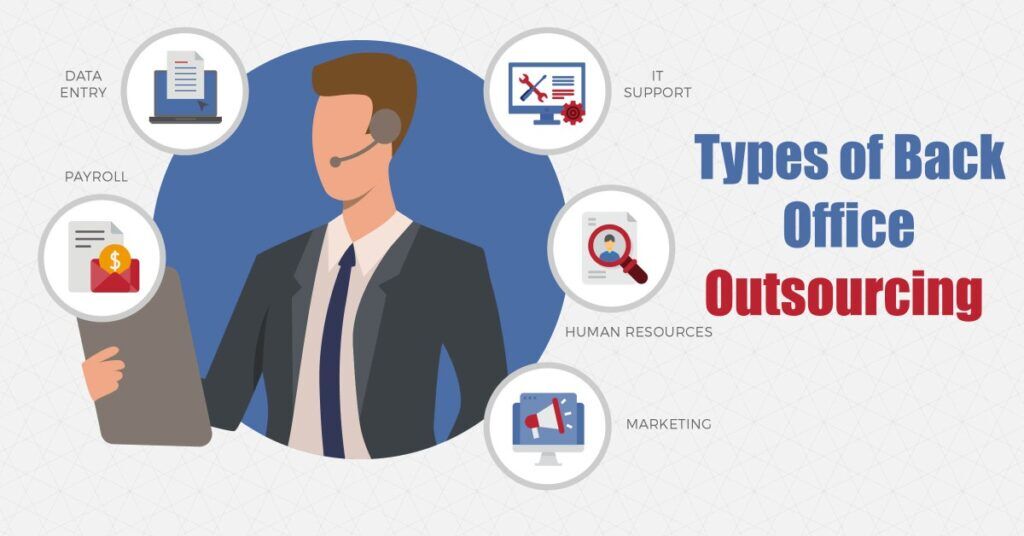 The front office of a company is responsible for making sales and profit, but it needs constant support for doing the same. Here comes the significant role of back-office support. Though these business functions are not directly related to the core business model, they serve a crucial role in overall business processes. Being the backbone of the company, it needs to be managed effectively otherwise it will create a domino effect in other pertaining administrative services.
Typical Back Office Support functions include:
Data Entry Services
Payroll
Human Resource
Information Technology Support
Marketing
Back Office Outsourcing: Advantages
Back office outsourcing has been a robust option for businesses looking to improve their profit and productivity. Starting from MNCs to SMEs, every business nowadays opts for outsourcing their certain business functions especially back-office to outsourcing agencies. There are several benefits of back-office outsourcing if done properly. Below are some of the benefits of choosing the outsourcing partner for your company –
1. Scalability
A good back-office outsourcing partner will let your company scale up in terms of profit, productivity, size, etc. The growth of the business is directly proportional to the output of your outsourcing agency. Sometimes, the outsourcing partners also take care of the hiring and the training processes, hence providing better support to the company.
2. Cost Efficiency
Back office outsourcing companies are proven to be more cost-effective compared to the companies that struggle to maintain a back-office support team. Outsourcing agencies take care of the equipment, infrastructure, training, hiring, and many more.
3. Access to Latest Technologies and Expertise
Another important perk of back-office outsourcing is that companies can get access to skilled people, the latest technological resources, quality services, and many more. Outsourcing companies not only provide back-office support but also emphasize providing support functions using the latest technologies and give training to their people so that they can deliver the output on time.
4. More Focus on Core Business Activities
Outsourcing back-office operations like data entry services, IT Support, HR services, payroll, etc. significantly reduces the workload of your company that leads to an increase in productivity and efficiency to the next level. Moreover, businesses can allocate their resources efficiently thus leading to higher sales and profit.
5. Time Zone Differences
Companies having clients across the world have to outsource back-office and customer support functions for the smooth flow of internal business processes. It is the responsibility of the company to look after its customers as well as core business model effectively to spread its business in foreign markets. Off-shore outsourcing partners come to the rescue while companies set their foot in the overseas market easily.
6. Reduce Corporate Overhead
One of the major benefits of back-office outsourcing is that it enables reducing corporate overhead. Companies that outsource certain business functions tend to focus more on their core business activities. They don't have to recruit extra people and incorporate infrastructures for back-office support thus saving 30% to 40% of their operating costs.
Learn More: Back Office Support Keeps Your Business Front And Center!
Back Office Outsourcing: Disadvantages
Since, outsourcing has gained immense popularity in the countries of North America, Europe, Australia, etc., companies need to evaluate the cons of back-office outsourcing before hiring any outsourcing service provider. Below is the list of potential risks of back-office outsourcing that companies should consider.
1. Insufficient Attention
Be mindful while selecting a back-office outsourcing partner for your company. Make sure that you are getting services tailored to your business needs. Companies that fail in maintaining a proper communication channel with their outsourcing partner tend to get poor service from their outsourcing partner. Hence, insufficient attention towards your outsourcing agency can lead to loss of customers and decreased profit.
2. Cultural and Language Barriers
Usually, outsourcing involves offshore BPO companies. Companies prefer offshore outsourcing agencies rather than locally available companies for multiple reasons like affordability, customer base, etc. Always check for vendors that have processes round the clock so that they can serve your customers and back-office issues efficiently. Language is important for communication purposes, hence choose offshore outsourcing companies where you can mitigate the language barrier easily.
3. Challenges to Quality Control
Whenever a company outsources its back-office operations to an outsourcing partner, it immediately loses sole control of those functions. It is essential to keep a check with the third-party service provider whether they are serving quality services on time or not. Sometimes, outsourcing agencies fail to meet companies' expectations, leading to decreased productivity and a huge loss to the company.
4. Data Security
Letting a third-party service provider take responsibility for a company's internal functions sometimes requires entrusting the service provider with sensitive information. It is one of the primary concerns of the businesses that outsource their back-office functions, as they no longer have the same control over their sensitive data. Hence, it is important to assess the service provider while ensuring that they are using the highest security measures for keeping your data safe.
Learn More: 4 Tips To Convert Data Into Information That Guide Decision Making
Conclusion
Whenever companies start to grow their businesses in the market, back-office outsourcing is a boon to them irrespective of the size of the company. Being a start-up or a big multinational giant, outsourcing back-office tasks has become more crucial than ever. Companies have the flexibility of outsourcing their back-office processes to the outsourcing agents. Before outsourcing any back-office functions, it is very important to define the tasks that need to be outsourced. Ask the third-party service provider to provide a roadmap that will help in achieving the business goals. If you haven't thought of outsourcing your back-office processes, now it's time to choose a back-office outsourcing agency.