Introduction
Customer retention strategies are an important aspect of company growth that most companies focus on as retaining old customers is far cheaper than acquiring new ones. Even though adding new customers to your business is equally important, your loyal old customers will play a vital role in spreading positive word of mouth about your brands to their friends and families. Research says that 80% of your business profit comes from 20% of the repeat purchase from your loyal customers.
Loyal customers are considered the heart of any e-commerce successful business. If you are successful in retaining 5% of your customers, then you can expect almost 25% higher profit. Repeat customers tend to spend 33% more per order than new customers because they are aware of your product and service quality. Having a significant amount of loyal brand advocates will lead to several benefits such as increased customer acquisition, good PR, and enhanced brand awareness.
What are Customer Retention Strategies?
Customer retention is referred to as the ability of an e-commerce company to retain old customers i.e., encouraging them in making repeat purchases within a certain period. With the implementation of effective customer retention strategies, e-commerce companies retain many customers which are known to be the backbone of their business as they purchase more frequently. Over time, the total cost of acquiring new customers decreases while they experience a significant increase in the average lifetime value of the customers.
Benefits of Customer Retention Strategies in the E-commerce Sector
E-commerce companies formulate customer retention strategies as a part of their marketing strategies with the hope of higher sales, more customer retaining, and an enhanced conversion rate. Below are some benefits of implementing customer retention strategies in e-commerce companies.1. Enhanced Brand Awareness
2. Increased Customer Recall Rates
3. Improved Sales and Conversion Rate
4. More Customer Loyalty
5. Free Word of Mouth Promotion
6. Increased Average Customer Lifetime Value
7. Measured Acquisition Costs
8. Improved Customer Experience
Top Customer Retention Strategies for E-commerce Business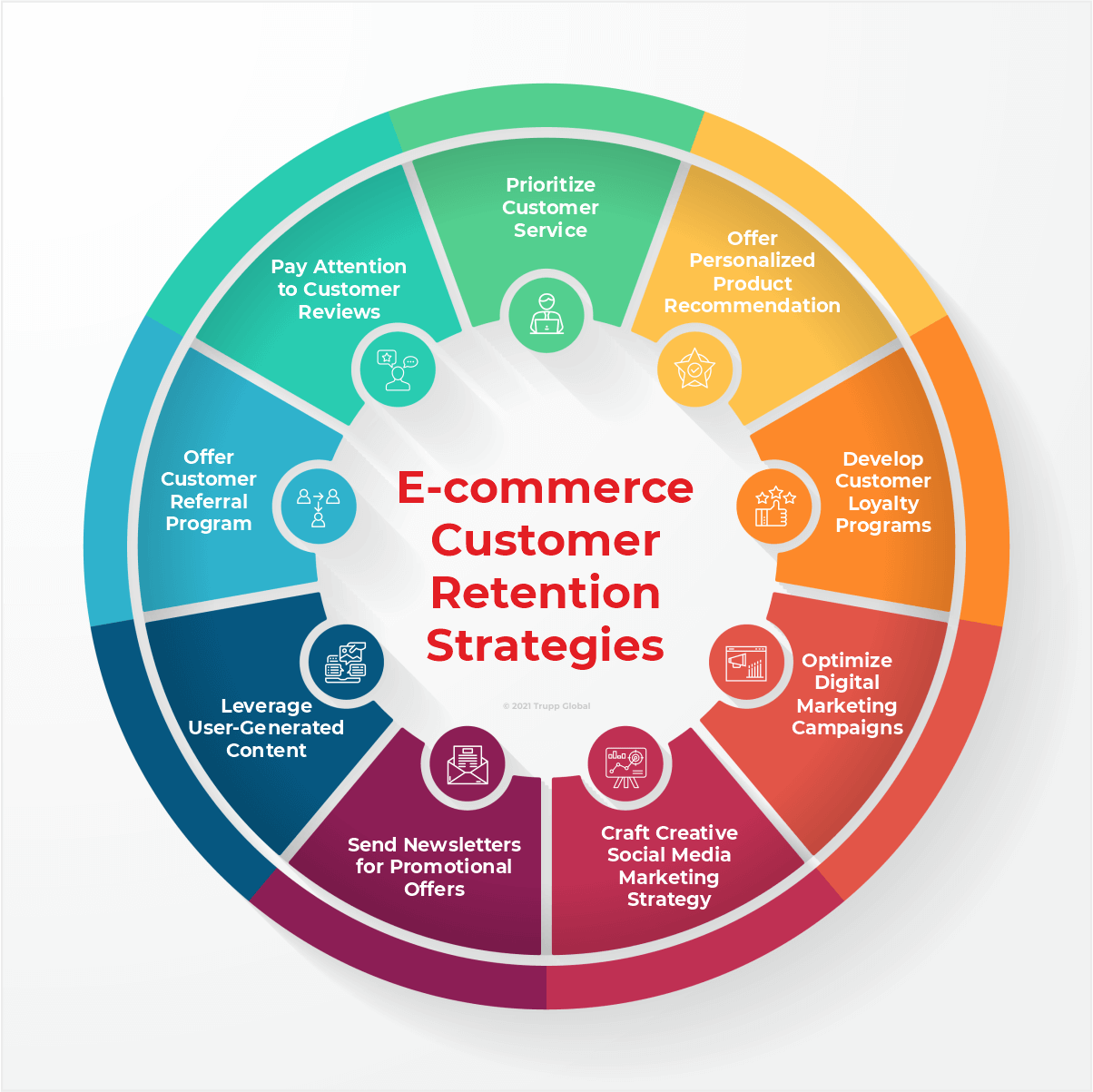 Customer retention strategies have a whooping impact on the value of the marketing and sales plan of an e-commerce company. Following are some proven actionable customer retention strategies that you can implement for improving customer retention thus improving business profitability.
1. Prioritize Customer Service
As an e-commerce company, you must invest in offering excellent customer service because your customers bring more businesses through an increased number of orders and more customers. Having well-defined customer service communications as a part of your customer retention strategies helps in improved profitability and business growth. Always be proactive to your customers and understand what they are trying to say. It will not only help you in customer delight but also you will get to know about the areas of improvement in your products and services.
2. Offer Personalized Product Recommendation
Companies are known to offer personalized product and content recommendations to their customers who believe that the brand is interested in their lives and goals. It will eventually make your customers willing to pay a premium for your excellent customer services as well as for your products. Offer product recommendations based on their previous purchase and search history. Else you can send them free resources like blog posts, product videos, testimonials, etc. so that they will know more about your brand.
3. Develop Customer Loyalty Programs
Most e-commerce retailers craft customer loyalty and reward programs as a part of their customer retention strategies. It not only provides value to the customers through points, discounts, cashback, and other perks, but also it includes reward tiers that encourage the customers to spend more. Either you implement exclusive discounts, subscription services, gift vouchers, or you can use a point-based system or hold an exclusive contest that will not only help in existing customer engagement but also it will attract a bunch of new customers.
4. Optimize Digital Marketing Campaigns
Customer retention strategies are a vital part of the digital marketing campaigns of e-commerce companies. To get optimum results, your digital marketing campaigns should be optimized properly so that they can reach the right customer. The process of optimization may include creating mobile-friendly digital campaigns, sending appropriate campaigns to the customers through their preferred communication channel, and posting the campaign at the proper time to get the most traffic.
For any e-commerce business, social media platforms are the best way to connect with customers. A creative social media marketing strategy should be a part of the customer retention strategies of online retailers so that they can target a specific set of customers or a diverse range of customers and increase customer engagement and customer loyalty. Your social media followers will eventually jump to your website if you are successful in making them delighted and interested through your social media posts and contests.
As your customers are already purchasing products from your e-commerce website, you can send them promotional offers crafted for them in the form of newsletters as a part of the customer retention strategies. It will encourage them to check the products and buy them as they will think that they are getting the product at a lower price. With the usage of the right digital marketing tool, you can encourage your customers to discounts and offers that have specific expiration dates.
7. Leverage User-Generated Content
User-generated content acts as an inhibitor to skyrocket customer engagement while winning customer loyalty for a long time. E-commerce retailers usually provide personalized content to their users and customers based on their search history so that they can get the relevant product at the best price. On the other hand, you can also create hashtags of your brand name on social media and create content to engage your customers in a way so that it becomes interesting for the customers. These customer retention strategies will eventually help in offering a personalized customer experience that helps in customer retention.
8. Offer Customer Referral Program
Customer referral programs are a crucial part of the customer retention strategies which are known for great results. It will not only help to retain old customers but also referral programs bring many new customers. This program has two main benefits: first, it inspires new leads and secondly, your customers are rewarded. A solid customer referral program can yield you better results than paid ads or voice calls. If you are successful in satisfying the needs of your existing customer, then they will bring new quality leads because of the goodwill and the rewards they are getting.
9. Pay Attention to Customer Reviews
Customer reviews are an important part of the customer retention strategies that you cannot ignore. Product testimonials and customer complaints are the areas where you gt et to know how the customers are enjoying your products and services. You must respond to the reviews posted by the customers in any communication channel so that they feel that your brand pays attention to them. It will help in retaining customers and increasing customer loyalty in the long run. Implementing feedback to your business processes is the key aspect to the growth of any successful e-commerce company.
Wrapping Up
Effective customer retention strategies will help you in increasing the average life cycle of customers for your brand. It is worth the effort because it will help you in brand building and ultimately reduce the marketing return on investment. While implementing the customer retention strategies keep in mind the area where your customers want improvement, analyze all the information related to your customers, and determine the preferred communication channels while reaching the customers. The higher the customer retention rate, the better the e-commerce business will thrive in the market.