Introduction
Outsourcing email support services is a very common practice that companies are practicing for serving their customers in a better way than ever. Nowadays most companies put tremendous effort into offering excellent customer service. Companies ensure that the customers' queries are solved within time and they should be delighted with the level of services provided by the company. Many customers prefer email support as their mode of communication with the company. Many companies provide a late reply to the customer mail but they create a negative impact on the customer's minds regarding the company.
What is Email Support Services Outsourcing?
Email support refers to one of the important customer communication channels that most companies use today. Typically, customers reach the brand with their issues using the email address mentioned on the brand's website or in any social media channels. Or else they can simply revert to the mail received from the brand itself.
Email support services outsourcing refers to the process by which a company outsources its email support services to a third-party service provider who specializes in this field. The service provider will reply to your customer's mail outside operational hours and busy times. The main advantage of email support services outsourcing is that it is considered a convenient way for customers to communicate without waiting for their replies. The outsourcing agency will reply immediately no matter what the time and volume are.
When to Outsource Email Support Services?
Outsourcing email support services depend on the readiness of the brand. Many factors are involved in the process of outsourcing. Do you receive bulk emails from your customers? Do you have a website? Are you striving to reply to your customer emails? Email queries of your customers need a rapid and accurate response.
If you have a startup business, have an online website, and receive customer emails in bulk, consider outsourcing the email support services. Increase customer satisfaction to the next level by outsourcing email support services that will lead to engaging customer base and driving customer loyalty. Email is considered a trusted customer communication channel that will allow your brand to get in touch with your customers easily.
Advantages of Outsourcing Email Support Services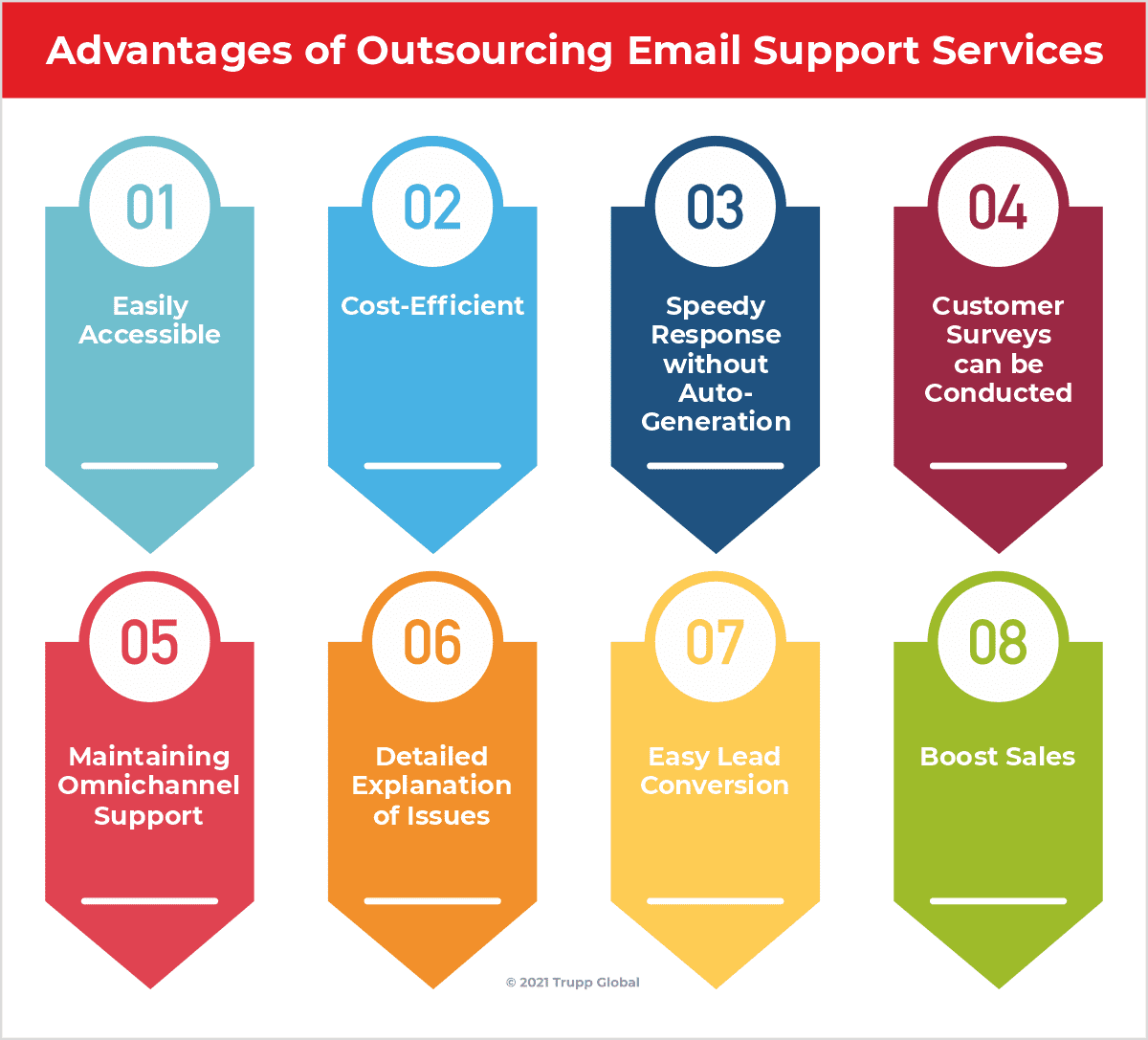 Apart from cost-effectiveness and improved customer satisfaction, there are multiple reasons that you should know about outsourcing email support services. Below are the few benefits of email support services outsourcing that your company can avail if it is done properly while choosing the right outsourcing partner.
1. Easily Accessible
Emails are easily accessible from ample gadgets like laptops, tablets, smartphones, desktops, and so on. Customers can have email access while they are on the move. With emails configured on these above-mentioned gadgets, especially on smartphones, customers can reach out to you anytime through email if they face any issues regarding your product. Outsourcing email support services will help you to offer timely responses to the customer mails thus increasing customer satisfaction.
2. Cost-Efficient
Compared to outsourcing other business functions, email support services are cost-effective as they can be integrated with the live chat services or voice chat services that you already offer to the customers. It does not cost a hefty amount and shows tangible results that always increase your ROI in the long run.
3. Speedy Response without Auto-Generation
Fast reply is something that customers expect from their preferred brands irrespective of the communication channel they are using. Email support is very difficult to automate, hence outsourcing the function can provide your customers with faster and accurate responses while solving their issues in time. Since customers expect a personalized response for their query, sending an automated response will just not surpass in this case. You will eventually lose the customer. Outsourcing email support services is the only option that can improve customer satisfaction by providing them personalized responses at any time of the day.
4. Customer Surveys can be Conducted
Brands usually conduct feedback surveys for ascertaining their CSAT and NPS scores by sending brand suggestions and updates for cross-selling and upselling. To provide delightful customer experiences, brands have to strive for mapping customer behavior. Outsourcing email support services help in conducting customer feedback surveys that help in measuring customer satisfaction and behavior.
5. Maintaining Omnichannel Support
If your business has a stronghold on email support services, then it can take your customer support strategy to the next level. While email support is one of the vital communication channels for the customers, however, the business must be available across different communication channels. Having an integrated omnichannel communication system, not only improves your brand's value but also enhances customer experiences.
6. Detailed Explanation of Issues
Some people are comfortable in comprehensively discussing their issues by dropping an email to the brands. Email is preferred by them because they don't get the advantage of describing their concerns in other communication channels like chat or call as it is very difficult to explain the issue in a detailed manner due to lack of time. On the other hand, agents also can provide step-by-step detailed solutions to the customers via email. Hence, outsourcing email support services can act as a boon to improve customer satisfaction.
7. Easy Lead Conversion
Nowadays, customers are interested in products that are worth their investment. They research a lot about the products and come with many queries during the time of checking the products on the website. In this scenario, either they use live chat or mail the queries. Outsourcing email support services will help your customers to get an instant reply to the emails. Agents will provide a detailed description of the solutions by attaching relevant product images with the mail that will help them in making a purchasing decision.
8. Boost Sales
By outsourcing the email support services, the customer service agents of the third-party service provider can leverage emails for boosting sales. While responding to the customers regarding any product query, they can recommend some other products with better usage and benefits. Or, they can show alternative products in the same price range. They can pitch any kind of special offers or discounts that may lead to the purchase of products way more than the customer was willing to buy initially. Cross-selling and upselling are the by-products of using email support services by any company that can easily improve the rate of sales of the company.
Final Take
Many businesses opt for outsourcing email support services as they think it is the best way to create a delightful customer experience and boost customer loyalty. For a company, to remain available across all the customer communication channels all the time can be a challenge especially replying to customer emails. Hence, outsourcing email support services is a viable option that will transform all dissatisfied customers into your brand endorser. Now you can smartly handle all the bulk emails even outside the business hours because of your outsourcing partner and create a strategy for increasing customer satisfaction better than ever.