Introduction
Every e-commerce company must prioritize the customer engagement aspects as this is paramount to success. The number of sales of your company is directly related to the customer engagement strategy the company is involved in. E-commerce customer engagement is essential as customers need special attention from their favorite brands. Nowadays customers are willing to spend for the brands that will provide a seamless customer experience. The e-commerce company will become a differentiator in the market only when it will serve customers in a personalized way and actively participate in customer engagement activities.
What is E-commerce Customer Engagement?
E-commerce customer engagement refers to the emotional connection of the customers towards the brand. It is a proven fact that the customers who are highly engaged tend to promote, buy and showcase more loyalty to the companies. Offering a seamless customer experience should be a vital component of e-commerce customer engagement policies. It will eventually help in increasing the revenue of the company and free Word of Mouth promotion in the market which is essential for improved brand reputation.
12 Ways to Improve E-commerce Customer Engagement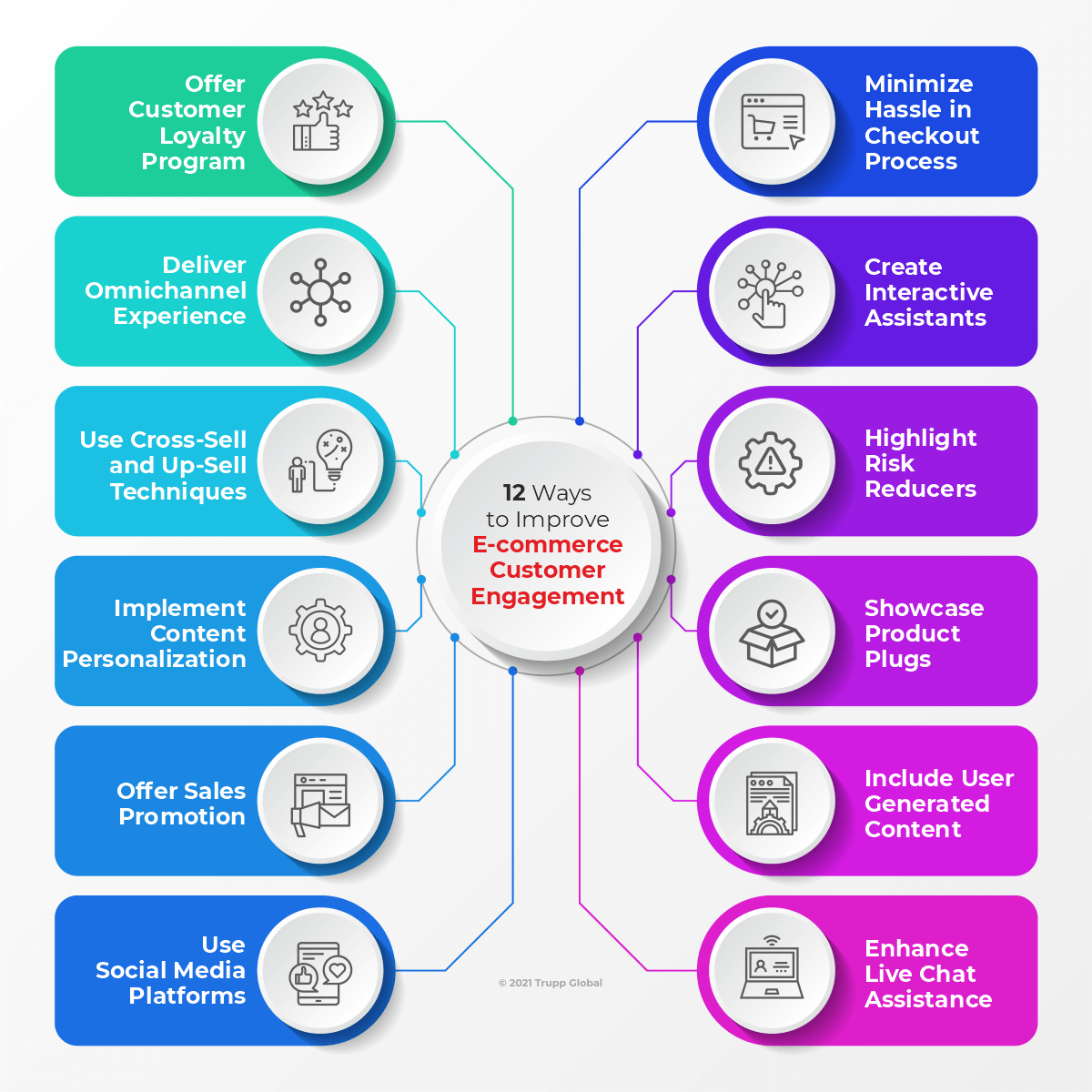 Building an online store on the best platform of e-commerce that has a user-friendly website and easy payment method is just not sufficient. Your target customers must know about you and how you care for them. Below is a list of a few strategies that can be followed to boost e-commerce customer engagement.
1. Offer Customer Loyalty Program
As a successful e-commerce company, you will not only want your customers to buy products from your site, but also they become repetitive buyers. You can accomplish this by valuing your customers by offering a loyalty program. Creating loyalty programs for your customers that include offers and incentives will definitely attract customers to buy more and more from your brand to avail of the offers. Loyalty programs usually reward buyers in multiple ways such as adding points, writing reviews, submitting photos, sharing posts and pages.
2. Deliver Omnichannel Experience
Omnichannel customer communication is a unified e-commerce customer experience no matter what technology and platform you are using. Research claims that almost 73% of online buyers rely on multiple channels while making buying decisions. Having a well-crafted omnichannel e-commerce experience will help the online company to boost sales and increase customer service. It can be improved by understanding the customer journey, proactive customer support, consistent brand message, etc.
3. Use Cross-Sell and Up-Sell Techniques
Using cross-selling and up-selling techniques to the customers help in enhanced customer engagement and sales. It is very easy to cross-sell any product to the customer if he is checking any products on the website. However, up-selling tends to be more effective because the customers are unaware of the superior products that may serve their purpose more than the products selected by them. While practicing the above-mentioned techniques, price sensitivity and fitting customer requirements must be fulfilled.
4. Implement Content Personalization
E-commerce content personalization is an impressive technique for companies that use cross-selling and up-selling techniques for their customers. Content personalization will showcase individualized offers to the customers such as related products, preferred categories, promotions, personalized search results, specific products, and many more. Personalization can be done based on the customer's behavior like visited products, shopping history, opened email campaigns, clicked ads, demographic segmentation, etc.
5. Offer Sales Promotion
For boosting conversion rates and customer engagement in your e-commerce website, creating sales promotions like free shipping options, promo codes, coupons, gifts, etc. helps a lot. It also raises the chance of clickable email newsletters and ads. Offering discounts acts as a great way of tempting customers into subscribing to a particular newsletter. By adding a limited time in the promotion, you can drag the user's attention to the next level.
The global users of social media platforms are expected to reach 3.2 billion by 2021. Hence, social media is the hub for the customers where people spend a hefty amount of time of the day. Nowadays customers research the e-commerce brand's social media handles to check about their customer service. Social media can be used while uploading engaging posts, paid ads, sharing icons regarding similar products, promotions, answering customer's questions, and so on to engage customers.
7. Minimize Hassle in Checkout Process
Cart abandonment is the most common case that e-commerce brands face that leads to loss of both customers and sales. Hence, to improve e-commerce customer engagement, the checkout process should be smooth. The checkout page is the most important page for any online website that must be hassle-free and clear so that customers can easily purchase products. It is the place where customers finalize the product, confirm shipping options, select add-ons, and then proceed to payment. Keep the checkout process simple by reducing alternative navigation at the checkout, provide live chat support, and prevent shipping costs.
8. Create Interactive Assistants
Statistics say that customers value when e-commerce companies provide significant insights by advising them in making a more informed buying decision. As an online brand, you must enter a multitude of interactive content tools like configurators, assessments, chatbots, and other recommended engines that will help the customers in suggesting related products using the priorities and search preferences. Interactive assistants act as a virtual salesperson that helps the buyers in making the informed purchasing decision by making e-commerce customer engagement.
9. Highlight Risk Reducers
By highlighting the risk-reducing aspects on the homepage and the checkout page, e-commerce brands can help in overcoming the objections of the customers while providing great peace of mind. Elements such as fast delivery, money-back guarantee, free returns, free shipping, secure transaction, etc. must be present on the website that enhances the e-commerce customer engagement. It will help the buyers in making the purchase decision faster because many consumers don't feel secure buying products online.
10. Showcase Product Plugs
Showcasing product plugs like customer reviews and testimonials on the website helps in boosting sales and e-commerce customer engagement. Before buying any product from any e-commerce website, buyers love to check the reviews posted by other users to know more about the product. Hence, adding customer reviews is a great idea for an increase in profitability. But adding product reviews with pictures or videos seems more convincing for customer engagement.
11. Include User-Generated Content
Adding user-generated content to the e-commerce website is a great bonus and can act as a great way of increasing sales of your product. Nowadays, popular online brands use hype-up engagement as a part of their marketing and promotional activities. User-generated photos and videos using the products are social proof that brands can implement to showcase how customers are loving using their products that increase e-commerce customer engagement.
12. Enhance Live Chat Assistance
Online brands can't thrive without embedding live chat assistance on their product pages and checkout pages. Companies face higher sales compared to ones who are not using live chat services for e-commerce customer engagement. Live chat is the way to assist the customers with the initial level of queries such as product-related queries, checkout-related questions, etc. It helps in increasing the number of sales while significantly reducing the number of cart abandonment issues.
Building Successful E-commerce Customer Engagement
E-commerce businesses should not focus on promotional activities. Today's customers expect excellent customer service more than good products and services because there are a plethora of options in the market unlike scarcity of products. To become a successful e-commerce brand in the market, e-commerce customer engagement should be enhanced that will lead to improved brand reputation, customer loyalty, sales, customer satisfaction, and so on. If you focus on increasing customer engagement using customer data, personalized customer service should be offered that will create a significant impact on the CLTV (Customers' Lifetime Value).