Introduction
For e-commerce businesses, live chat services have become one of the most sought-after options as more than 42% of the customers choose live chat services as their preferred mode of communication to the brand. Moreover, it helps brands in providing instant customer support whenever a customer requires it. The rate of e-commerce conversion is 1% to 2% which means for every 100 visitors on the site only 2 of them turn into customers. Brands not only help in resolving time-sensitive issues but also help in transforming potential visitors into real-time customers. So, let's get started with the benefits of live chat that e-commerce companies can reap while integrating them into their websites.
Why do E-commerce Businesses Need Live Chat Services?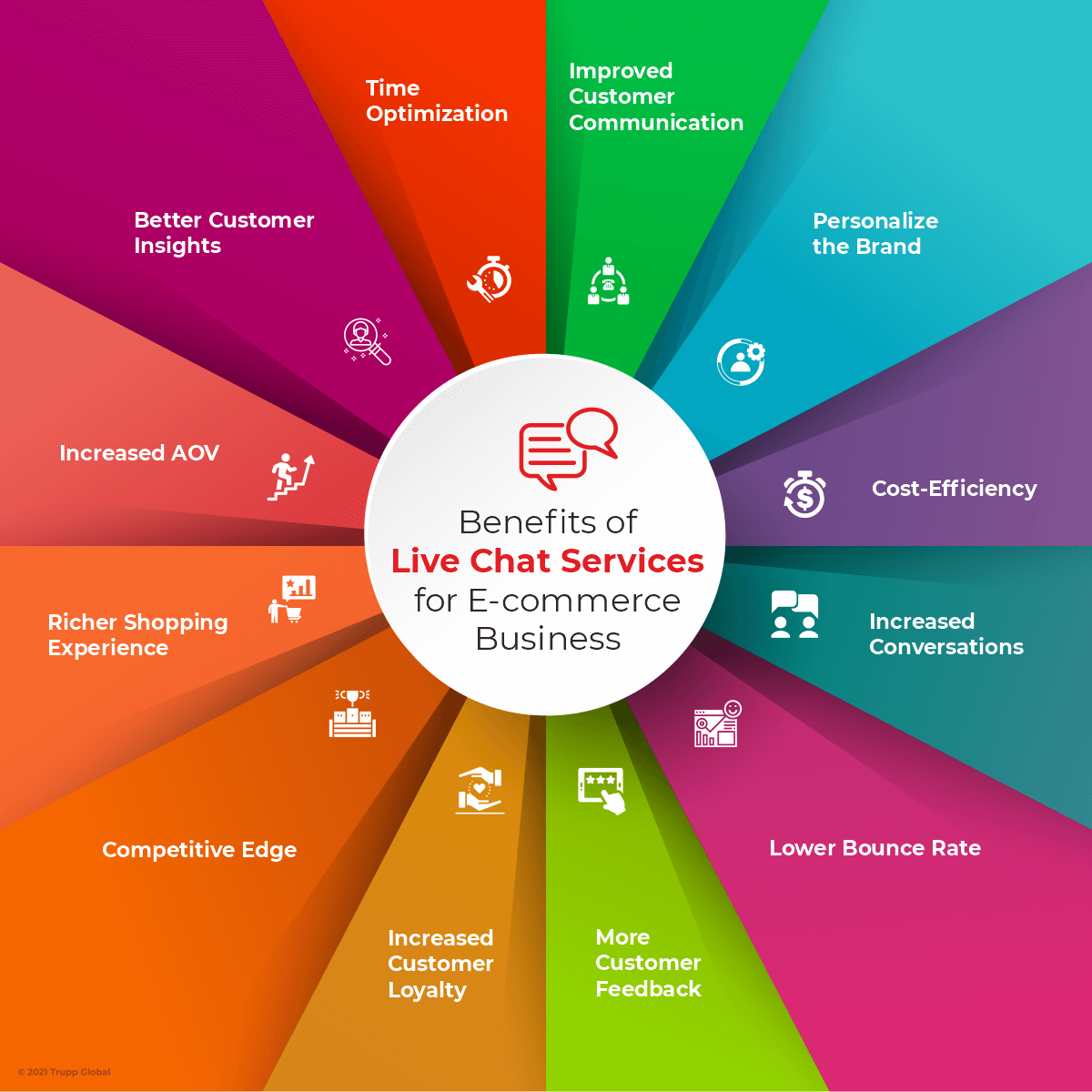 As most of us know that customer support can either make or break a business because it plays a crucial role in retaining and nurturing relationships with the existing customers towards your brand. With that in context, below are the reasons for using live chat services by e-commerce businesses.
1. Time Optimization
Time optimization is very important. The customers must not wait for long for any response such as email, phone call, or chat that can lead to loss of business. Hence, live chat in this case can handle the routine tasks of attending to customer's queries faster than ever. The customer support agent can handle multiple tickets at a time with the help of live chat integrated into the website, thus response time will be faster.
2. Customer Communication
Live chat embedded in the website helps customers communicate with the brand easily. With greater ease comes greater frequency. Customers who have received good customer service will return to the brand and are more likely to make a purchase and spread a positive Word of Mouth regarding your products and services. It will eventually help in acquiring more customers and maintaining a good relationship with the existing customers.
3. Personalize the Brand
Opting for a live chat for your website over other channels of communication provides a personalized touch to the customer experiences. Now brands can elevate the customer experiences with the use of live chat in their website in a way so that customers can get relevant answers to their queries. Customer service agents with the help of automation services can serve way better than without it while giving a personalized approach to every customer.
4. Cost-Efficiency
According to a Forrester report, live chat is 50% cheaper than traditional voice calls. For a start-up e-commerce business, live chat support can be really helpful in terms of providing a unique customer experience and cost-effectiveness if the business runs on a tight budget. Moreover, chat support is much easier than solving problems on a phone call because the customer service agent can multi-task and become more productive.
5. Increased Conversations
Research says that more than 40% of buyers use live chat support for making their online purchases. With the help of live chat support, customers will interact more with the brand that will lead to purchase decisions. Most of the customers have queries related to products and services before purchasing. Implementation of live chat to the website can resolve their queries within minutes thus a visitor can turn into a customer.
6. Lower Bounce Rate
A higher bounce rate not only helps in reduced traffic but also affects the search engine ranking of the website. Among the multiple ways of reducing bounce rate, integrating live chat is always proven to be the optimum way of staying visitors to the website. The pop-up of the live chat support will keep visitors for some time on the website thus reducing the bounce rate.
7. More Customer Feedback
Online customer reviews are the most important aspect of an online business. Before buying any product from any website, most of the customers check the online reviews for the products. With live chat support, customer feedback is automatically received by the companies that help not only in product development but also in providing better service to the customers.
8. Increased Customer Loyalty
Customers' trust and loyalty are very important for any e-commerce business to thrive. It's the Word of Mouth (WOM) that plays a vital role in the increased sales and profitability of e-commerce brands. Live chat support makes the customers feel that as a brand you care for them and solve their issues quickly. Customer loyalty plays a very important role in building brand loyalty and reputation in the market.
9. Competitive Edge
A brand can get a competitive edge while serving excellent customer service by using live chat support embedded in its website. Companies can go the extra mile for the customers by using omnichannel customer support while using live chat as one of the modes. Startups can easily acquire customers nowadays because customers are ready to pay more for better customer service.
10. Richer Shopping Experience
There is no denial of the fact that live chat helps in an improved shopping experience for customers. Getting answers quickly not only improves customer journey mapping but also each customer gets a unique shopping experience. Whenever a customer purchases a product online, they need support regarding buying procedures, payment-related issues, after-sales support, and many more. Live chat support can provide a seamless customer experience at every touchpoint.
11. Increased AOV
Whenever a customer service agent is having a chat with the customer, he can easily up-sell or cross-sell products to that customer during the conversation. With the live chat services integrated into the website, a customer service agent can easily interact with the customers while pushing various offers and discounts to the customer so that they can purchase those products. Thus, the average order value (AOV) can be increased by using live chat too.
12. Customer Insights
The tools used in live chat support services allow the customer support agent to analyze and monitor the customer's activities such as the friction points of the shopping cycle, customer behavior, etc. The support team analyzes the types of customers' queries and thus helps in improving customer service and product development. Live chat tools also help in capturing various customer details like location, email address, session data, browser information, etc. that can be used for various purposes.
Conclusion
Adding a live chat portal in an e-commerce business can do wonders in increasing the sales and profitability of the company. With its varied usage, you will never miss transforming a potential visitor into a customer. Apart from that, a company can save a lot of capital and time that would otherwise be spent on maintaining a call center team and replying to innumerable emails. Live chat also helps in making customer journeys smooth by helping them purchase the product. With specialized third-party apps and plugins, companies can use the right information and data while providing comprehensive support to valued customers. With this possibility, having live chat services integrated into a website can help in increasing the conversion rate.